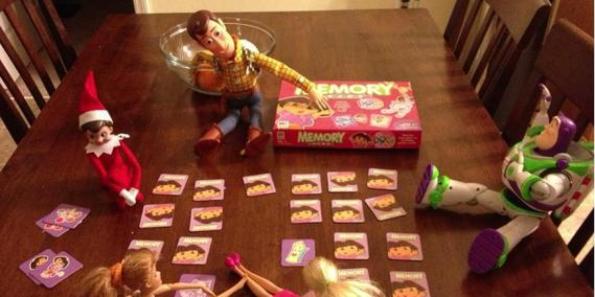 For the next couple days Chapters.Indigo.ca has free shipping with no minimum purchase, which makes it the perfect time to get some Christmas shopping done. If your kiddos love the Elf on the Shelf tradition that seems to be so popular, then maybe they will also enjoy the Elf on the Shelf Make a Match Game which is on sale from $9.95 down to just $2.50 each right now. That low price seems mighty dandy, especially when you factor in the free shipping with no minimum purchase. There is a catch though, you must purchase a minimum of two of these card games.
Games like this are great for many reasons. For one, the Elf on the Shelf Make a Match Game is an excellent way to spend family time together during the Holiday season. Since Elf on the Shelf is so popular, you should have no problem getting the kids interested in this fun match game. I mean, for just $2.50 you are going to enhance your kiddo's memory skills while having fun. Seems like a win-win situation, doesn't it?
So basically your kids will have to find the matching pairs within these holiday-themed cards. This card game even comes with an adorable little elf figurine to watch over the game and to make sure that the kids are being well behaved while they are playing. Speaking of inclusions, what is included in this offer?
In the box:
This game is best suited for 2 to four players, for a few reasons. It is also best suited for children ages 3 and up. Though my son is not quite 3 yet and he thoroughly enjoys mix & match games like this. He also knows how to play the card game called "Go Fish" which most other parents seem pretty impressed by.
Chapters.Indigo.ca seems to be offering free shipping with no minimum purchase more often, but that doesn't mean it will continue that way. It means you should snag the items you find at incredible prices now, so you don't have to factor in any additional shipping and handling costs. Normally you would have to spend $25 to get free shipping, which would mean purchasing 10 of these card games. The free shipping with no minimum purchase is valid from October 27th through October 29th.
(Expiry: 29th October 2015