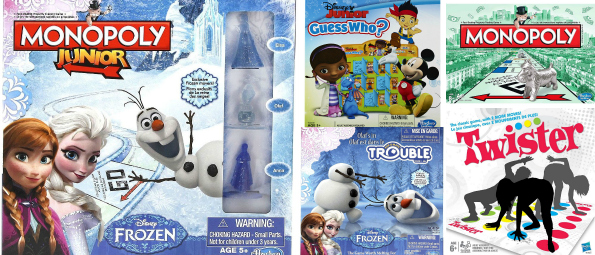 The Toys R Us outlet at eBay Canada has a huge selection of games on sale from $19.99 down to $11.87. This price itself is an amazing discount but it is being matched by a few places. However, the Toys R Us Outlet on eBay Canada is offering free shipping on each item. If you bought these games anywhere else, you would have to pay for shipping or reach a $25 to $50 minimum. There are currently a ton of amazing games on sale for adults and kids.
For the Disney Frozen fans in the room there are two games you can pick up for $11.87 each with free shipping. First, Disney Frozen - Monopoly Junior Game is a fantastic way for younger kids to learn the ropes of Monopoly. The board comes with three character markers. Your children will make their way through Arendelle buying up properties and amassing cash.
Next, Disney's Frozen - Olaf's in Trouble Game is a children's version of the classic 'Trouble' game staring Olaf. You need to travel around the country in an attempt to save Olaf - but watch out for avalanches!
For more child oriented fun, the Disney Jr Guess Who Game is a class Guess Who? game where you need to guess your opponents characters correctly before they guess all of yours. This game stars some classic Disney characters. Ask questions like "do they have big ears?" or "do they wear a hat" to figure out which character is in which box.
The classic Monopolygame you can score for just $11.87. This game should be part of every household's game collection as it is such a classic. Travel around the board buying up properties, building houses and hotels, as well as collecting rent. Try and avoid landing on your opponents' squares!
There is also the Classic Twister Game with two additional moves. I have never played twister but it always looked like an absolute blast... especially if you have had a few glasses of wine first.
Here are a few more games to check out, and this isn't even close to a comprehensive list:
There are many many more games on sale for $11.97 with free shipping, so go through the main link above to see them all. All of these games are a great buy not only because they are on sale (they are on sale other places too), but also because you get absolutely free shipping on any of these five games. No minimum purchase is required and that is free shipping to your home. Stick a few of these under your tree this Christmas.
(Expiry: varies)