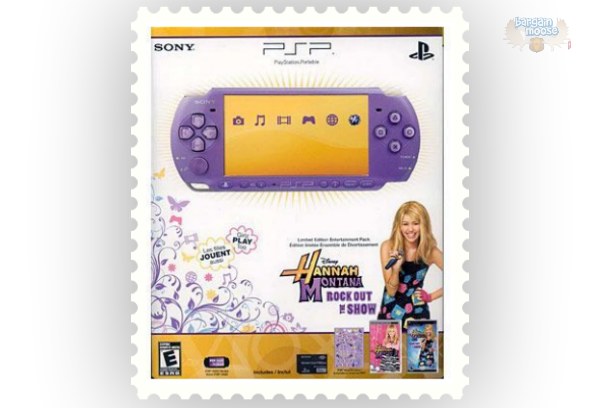 A top rated seller on eBay is selling Hannah Montana Limited Edition Sony PSP Deluxe Bundle for 51% off original retail price. That means you will get your special Hannah Montana lover a Sony PSP for only $109.99. It comes with free shipping and ships from within Canada - no duties!
This is the Hannah Montana: Rock Out the Show, Limited Edition Entertainment pack. This includes the Limited Edition Lilac PSP-3000, a 2GB Memory Stick PRO Duo, Hannah Montana: Rock Out the Show Game, Hannah Montana Video on UMD, and Vinyl Stickers to personalize your PSP! We are also including a Sony PSP Road Gear kit, which contains a Travel case to protect your PSP and 2 UMDs, a Silicon UMD protector, Earphones, a car charger to keep you powered up on the go, and bonus cleaning cloth and screen protectors! This bundle comes with everything you will need to get started with all the portable gaming power of the Sony PlayStation Portable.
I price compared with Amazon.ca where I only found it in the marketplace for $174.99 + $4.99 shipping. The prices just got worse after that.