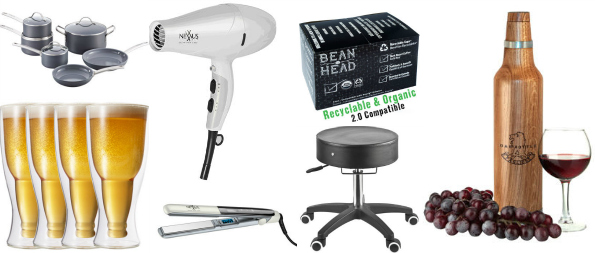 Costco's Boxing Day deals have already started - a week early! Check out the early Boxing Week sales at Costco Canada for up to 45% off select items and free shippingon any order.
I have to be honest; I am a little disappointed by this sale. The discounts are fairly small given that this is supposed to be a Boxing Day sale. There are a few gems, but they are few and far between. Among the gems, Costco Canada has brought back their sale on this Mark McEwan By Greenpan Healthy Ceramic 10-pc. Hard Anodized Cookware Set. Originally $289.99, the set is now down to $189.99. The same set was on sale for $299.99 @ Shop.ca where it is now sold out.
Hands down - the sale on this Venus Swirl Razor with Flexiball Technology and 8 Cartridges is my absolute favourite. Originally $39.99, Costco Canada has discounted this bundle to just $32.79. You may not think that is a 'great deal' just judging by the discount, but the original price was still cheaper than you could find this set for anywhere else. Let me show you why.
At Walmart, you can buy the razor with two cartridges for $14.97 and a box of six cartridge refills for $29.97. Together, that equals one razor and eight cartridges (same as the mega pack above) for $44.94. Amazon Canada sells the razor with one cartridge for $9.99 and the six-pack of refills for $26.99, which brings you to $36.99 but you are one cartridge short.
My next choice is a rather odd one I think: this Master Adjustable Rolling Massage Stool is on sale from $89.99 down to $69.99. This is not just a massage stool; it is good for the home office, garage, workshop, laundry room, crafts room, and more. If you play music, then a stool like this would be perfect for piano and such. The manufacturer sells this for $109.99 USD, The Amazon Marketplace has it for $99.99, and Walmart sells it for $88.
For coffee loving Moosers, pick up this Bean Head Organic and Recyclable Dark Roast Coffee Single Serve Cups – 96 Podson sale from $55.99 down to $43.99. Amazon Canada sells a 96 pack of the same pods for $69, so this deal blows that out of the water.
For hair care, I want to mention a couple products. The Nexxus Digital Pro Titanium Ceramic Straightener is on sale from $89.99 down to $69.99. Amazon Canada currently has it listed at $89.99. The Nexxus Italian Pro AC Hair Dryer is on sale from $75.99 down to $59.99. At Amazon the same hair dryer costs $82.80.
(Expiry: 3rd January 2016)