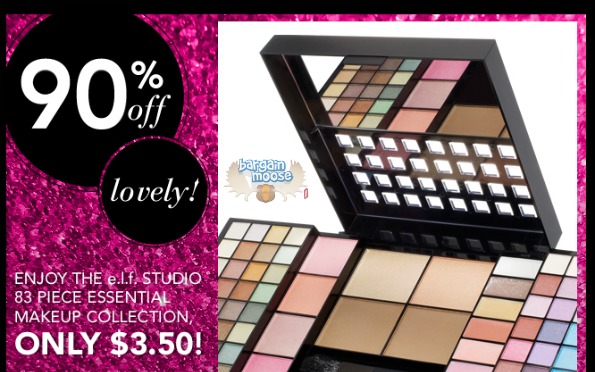 Spend $25 at e.l.f cosmetics and add an 83 piece make up collection from e.l.f cosmetics for only $3.50! Use the coupon code below to save.
Discount: 90% off 83 piece make up collection when you spend $25
Coupon Code: LOVELY
Expires: 23rd January, 2012
The set would be valued at $249 if sold separately!  The Studio 83 Piece Essential Makeup Collection includes
64 Eyeshadow Shades
8 Lip Gloss Shades
4 Blush Shades
4 Bronzer Shades
1 Lip Brush
1 Eye Brush
1 Face Brush
At checkout you also have the opportunity to add a 100 piece eyeshadow kit to your order for just $10!
I've used a few e.l.f products such as the Foundation Brush for $1 and the Eyebrow Tame and Treat for $3 and have been happy with the products, and the price!
As we've said in the past, if you checkout via paypal without signing into your account, you have the best chance of saving on shipping costs. Prices in USD and this ships from the US.
Expires: 23rd January, 2012