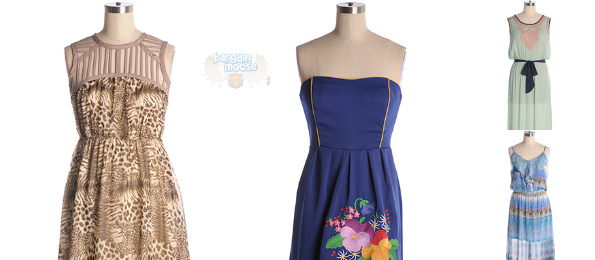 Dress911 has launched their massive up to 80% offBlack Friday/ Cyber Monday sale with plenty of new dresses priced under $15 each. Dress911 always has a flat rate of $5 shipping across Canada, but this month you can also enjoy free shipping on orders of $25 or more.
This sale is really hot with many items already sold out. Check out these sweet deals and score yourself an entire outfit for under a $10 and a $5 bill put together. Some dresses are even under $10!
This Tennis Matchmaker Dress was $54.95 and is now $10.99. Sizes small and medium are still in stock in this collared pink mini dress. While the dress looks simple from the front, click through the images to see a surprise in the back. An open back is framed in soft lace for a truly exquisite and unique look on the court.
Looking for a simple summer dress? I know summer was a season ago, but buy now and stow away in your drawers for next year. The Summer Classes Dress is available in Apricot, Gray, or Pink for just $9.89 (was $32.95). While I am not fond of the shapeless style for wearing out of the house, I would wear this as lounge wear any day.
One of the things I love about Dress911 is how they cater to sizes outside your standard small, medium, and large. This lovely Frozen Daiquiri Maxi Dress is in stock in sizes XL and 1X currently. Originally $54.95, the dress will only cost you $10.99. I love the sea-foam green with orange accents and dark blue accents as well. I think the colour combination is just perfect.
Are you on a very tight budget? This Full Bloom Dress in Blue might be your new favourite at only $7.99 (was $39.95) if you are a size large. This strapless beauty fits short so you may want to pair it with leggings.
I am sure this Gaia Dress will be a favourite of many girls. The vibrant colours and floor length design really do speak of parties on the beach and bright summer days full of good food and good friends. Originally $47.95, the dress is now on sale for $13.45.
The free shipping on $25+ really makes this offer pop. I loaded three dresses into my cart for a grand total of $33 and received free shipping as well. You really cannot do much better than that. This sale totally rocks and I hope our Moosers score some incredible deals.
(Expiry: 1st December 2014)