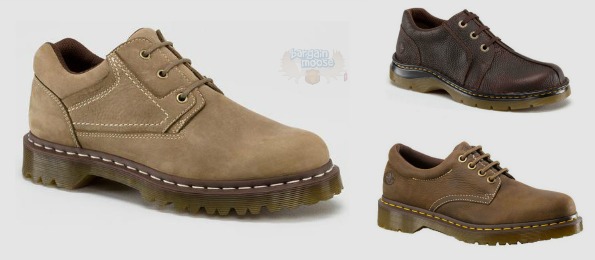 Dr Martens Warehouse is a great place to pick up a good pair of shoes at a discount. I ran across these men's Felton Shoes in Moss from the Ben collection for just $59.99, originally $149.99.
The Felton has the famous cleated airwair sole for traction and comfort. The upper 'Icecap' is made of soft semi nubuck and features three eyelets per side. You also will enjoy the padded collar for additional comfort. It also keeps your heel from slipping, which reduces the chance of blisters. These shoes are heat-sealed and welt stitched for long-term durability.
The selection is pretty awesome. When I approach sale sections, I generally expect to see about two, maybe three, sizes still available. Usually, those sizes tend to be the unpopular ones either at the smaller or larger end of the scale. Regardless, the Felton is available in sizes UK6 through UK12. Anyone not familiar with Dr. Martens' sizing, you essentially add one to get your US equivalent. For instance, a UK 9 would be a US 10 or a EUR 43.
With such a huge variety of sizes still in stock and $90 off the original price, I figured this was a deal certainly worth your attention. Dr. Martens offers free ground shipping on orders of $75 or more, so you might want to shop around a bit and see if there is anything else you would like.
The Ripley is another great men's shoe on sale for almost as good a discount. Originally $135.99, the shoe is now $59.99. It has a full grain leather upper with an oily finish. I prefer leather to nubuck just because I know how well leather wears and how durable it is. I also like the Ripley better because it is a dark brown as opposed to the lighter coloured Felton. At $75 off, it is a good buy. All sizes are available except for UK7.
These Boston Shoes are on sale for $59.99 as well, originally $129.99. They are a similar style with four eyes and leather upper. Like many other sale shoes, they are only available in one size: UK10. Lucky US size 11 men do save $70!
I think of my father when I look at these shoes. I am sure he would appreciate the comfortable sole that Dr. Martens makes and the durable uppers as well. One day I might have to buy him a pair as I doubt he would ever buy them for himself.
(Expiry: Unknown)