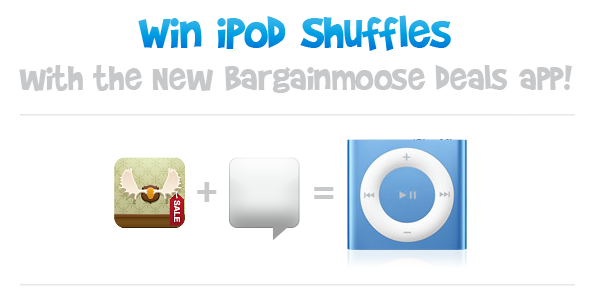 *** Contest now closed - winners contacted soon ***
(BUMP) We've all got cellphones, don't we? So why not get Bargainmoose on there too - we've got a newly launched app for Android and iOS devices! And we're going to give away some sweet gadgets to celebrate it - you could win one of four  2GB Apple iPod Shuffle mp3 players.
The new Bargainmoose deals app is a mobile version of our Bargainmoose website. You can do anything that you can do on the main website, except the app is optimised to make it easy to use on your mobiles. I've been using it on my iPhone and it's really handy. There are automatic notifications when there are new blog posts or hot deals on the forums, making sure you don't miss out on the short lived deals.
Or just search for the apps in the app market on your handset (just search for "Bargainmoose deals").
Prizes: 4x Apple iPod Shuffles(2 for iOS reviewers, 2 for Android reviewers)
What you have to do:
Download the apps to your mobile devices, then leave a review for the Bargainmoose deals app. Make sure to leave the reviews on itunes or on the Android Market, where appropriate.
4 random winners will be chosen from all the reviews posted!
Rules:
Ends 16th January 2012
Canadian entrants only
One entrant per household
Rules subject to change, admin's decision is final
Must leave a valid review to be eligible
All winners announced at end of contest period
Good luck!