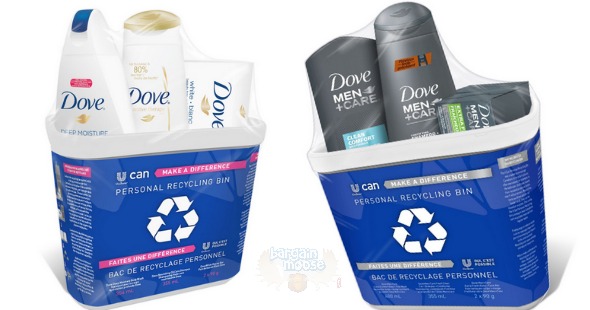 Walmart Canada has their Dove Bathroom Recycling Kit on clearance from $10 down to just $5. There are two different options to choose from, for men and women. Each kit includes 3 of their popular products as well as a personal sized recycling bin perfect to keep in the bathroom. This is a great way to save a few bucks while helping the environment.
Dove Canada is doing more to help the environment. They are trying to infuse their products with ingredients that are better for both you and the earth we live on. Why, right now Dove Canada has a product package that comes in a recycling bin that is perfect size for the bathroom. How many times do you have a package from a makeup product that could be recycled, but you just throw it in the bathroom garbage because you don't want to carry it out of the bathroom? Luckily, the Dove Bathroom Recycling Kit is on clearance sale at Walmart.ca right now for $5 instead of $10. So now you can help the environment while saving 50% on these popular product for you or your hubby. Hey, the Dove Men's Bathroom Recycling Kit may even be a great addition to a Father's Day gift.
Take a look at the two different Dove Bathroom Recycling Kits available for just $5 at Walmart.ca. I included the regular price  in brackets for each product, so that you can get the general idea of the savings at hand.
Dove Women's Bathroom Recycling Kit for $5 includes:
Dove Deep Moisture Body Wash 354 mL ($3.47)
Dove Nourishing Oil Care Shampoo 355 mL ($3.47)
Dove White Beauty Bar 2 x 90 g ($2.97)
personal recycling bin
Dove Men's Bathroom Recycling Kit for $5 includes:
Dove Men+Care Clean Comfort Body + Face Wash 400 mL ($4.97)
Dove Men+Care Fresh Clean 2 in 1 Shampoo and Conditioner 355 mL ($4.96)
Dove Men+Care Extra Fresh Body + Face Bar 2 x 90 g ($3.97)
personal recycling bin
So ultimately there are more savings to be had in the men's package, as their products seem to be a little more expensive. I couldn't find what the recycling bin should cost, but it is a great addition to the package either way. While Walmart.ca no longer offers free shipping with no minimum purchase, there are a few different options for you to choose from. If you live in an area that has it, you can opt for free pick up at your local store via the Grab & Go lockers. I have only seen this in the Greater Toronto Area so far though. Otherwise you can pick your purchase up at your local Canada Post office for free, or spend $50 or more to get free shipping right to your door.
(Expiry: Unknown)