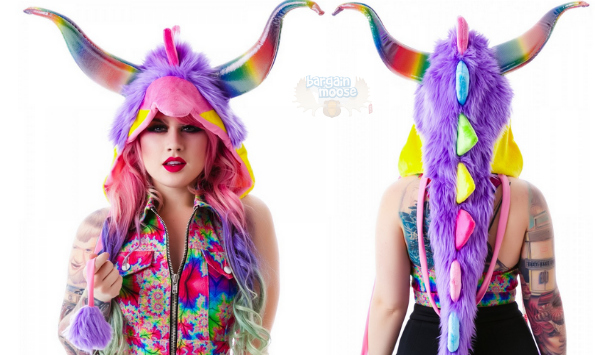 Once in a while I like to introduce our lovely Moosers to a new company. Starting today, Dools Kill is offering free shipping with no minimum worldwide. This is starkly different from their $8.95 flat rate to Canada or $75 minimum for free shipping. Take advantage of no minimum for free shipping and combine it with their up to 95% off clearance sale! All prices are in USD.
This little shop is full of funky clothing for women and teens who like to dress against the grain. They don't just cater to 'one style': rather they include preppy, sporty, girly, gothic, and more clothing in their shop. We are not talking the Spice Girls here! There is also a substantial clearance section to shop through so you save money on each item as well. Duties may apply on items that cost $20 or more.
Hello glorious discounts! This Mizz America Costume is perfect for your next trip to comic-con. Originally $49, the costume is now on sale for $4. I always think that a girl needs a few good costumes in her wardrobe for important occasions like Halloween, comic conventions, and fun in the bedroom.
For adorable and affordable legwear, pick up a pair of Kitty Kat Tights. They are one size fits all meaning they probably aren't made for the upper size ranges. Originally $10, they are now on sale for $2.90. These would also make an excellent stocking stuffer for Christmas.
Speaking of stocking stuffers, why not throw this Furry Friendly Pen Case into the mix. Originally $7, the case is now $2.80. The case comes in two colours, which is perfect if you have more than one kid.
This Do U Want To Build A Snowman Hat is fudging adorable! Not only does it remind me of Frozen, but it reminds me of the old Frosty movie that is on television around Christmas. Originally $20, the hat is on sale for $12.70.
For the Adventure Time fans, this Lumpy Space Princess Face Dressshould be a big hit. Originally $35, the dress is on sale for $16.70. I also just adore these Over The Rainbow Platforms. Seriously, why don't we wear shoes like that all the time? Originally $70, they are now $48.90.
While not in the clearance section, this Dragonheart Rainbow Hood totally won my heart. I love the big ears and the long tail down the back. I can just imagine myself wearing this to comic-cons and then secretly at home watching movies. The hood costs $74 and I am seriously crushing!
(Expiry: 14th July 2015)