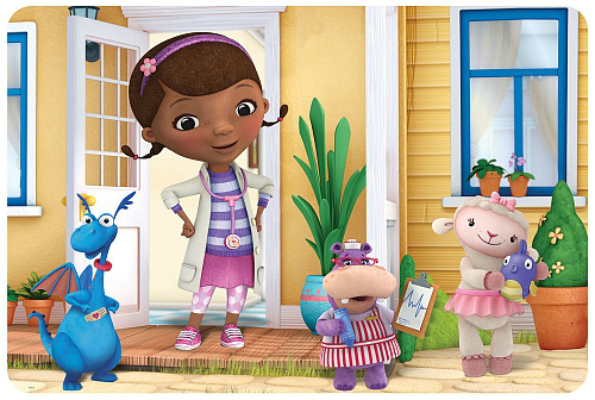 Is your child a fan of the illustrious Doc McStuffins? Pick up this Large Floor Puzzle - Doc McStuffins on sale from $14.99 and now only $10.47. In additional. you will receive free shipping on your order. This puzzle is sold by the Toys R Us Outlet through eBay Canada.
Doc McStuffins is a very popular show for kids and Doc McStuffins toys are well sought after this Christmas. This large floor puzzle measures 3' by 2' when fully assembled. There are 46 pieces in total. Therefore, each piece is fairly large which makes it easy for little hands to grasp and place the puzzle pieces in order. Even so, this puzzle is recommended for children ages three and older, perhaps due to the fine motor skills and reasoning needed to assemble a puzzle.
I blogged this deal for a couple different reasons. First, Doc McStuffins is a very popular theme for kids these days. Secondly, only at eBay Canada and Toys R Us is the puzzle this low. The same puzzle costs $25 @ Amazon Canada and $24.99 @ Staples Canada right now. I checked Walmart as well, but they do not sell the large floor puzzles in the Doc McStuffins theme. Given that the price other places is well over double, I knew this was a solid deal.
Thirdly, you receive free shipping on just this puzzle. While Toys R Us's main site also has the puzzle on sale, you would have to hit a $49 free shipping minimum or pay $9.95 in shipping costs. That makes this deal at eBay Canada much better.
The completed puzzle is as you can see above: Doc McStuffins with her stuffed animal friends. This gift is perfect for one of your child's 'under the tree' gifts as it is sizable. I also think this is a great price just in general for floor puzzles. The cheapest floor puzzle (in general) at Amazon is $17.70.
Does your child like Doc McStuffins? If so, what are you hoping to buy them for Christmas?
(Expiry: Unknown)