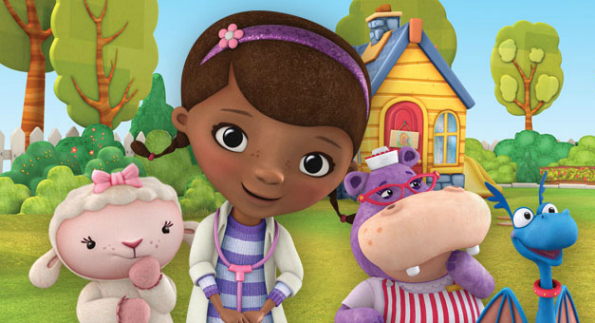 I was surprised to see how popular Doc McStuffins is right now as it was on a lot of Mooser's wish lists. While browsing eBay Canada, I came across this Doc McStuffins - 8.5" Physician Doc on sale from $19.99 down to $11.97. Best of all, it is from the Toys R Us Outlet on eBay Canada and they are offering free shippingwith no minimum.
This 8.5" tall doll is sure to please your young nurses and doctors who love Doc McStuffins. Take care of people young and old with this Doc McStuffins Physician Doc doll. The doll comes with her doctor bag, stethoscope, and thermometer. She is a great basic doll for all Doc McStuffins loving kids.
I was trying to see if there were any 'extras' with the doll that I could find. It looks like she might come with stickers or at least paper cut out 'stickers' or badges that you can give to her patients for being so good. There also appears to be a paper journal or notebook as well that a responsible adult could cut out with scissors and give to children who are past the whole 'shove everything in my mouth' stage. This set is recommended for ages 3 and up due to small parts like the stethoscope.
I don't know much about Doc McStuffins but I love her clothing choices. Seriously, she wears runners, polka dot tights, a pink skirt, and striped shirt underneath her lab coat. I think I would like my doctor a lot more if she dressed like that. I also like to see such positive female role-models for young girls. Instead of a fashionista, a homemaker or a nurse, they get to aspire after a female doctor, which is pretty cool. I always wanted to be a vet myself.
I price compared as best I could but only Toys R Us Canada carries this doll. It is on sale for the same price on their main site but you do not get free shipping if you shop from Toys R Us directly. Therefore, this eBay Canada deal - via the Toys R Us Outlet - is a much better deal as you receive free shipping on this doll alone!
(Expiry: Unknown)