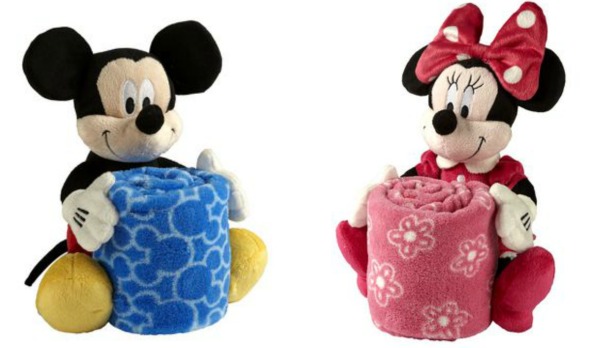 Awh, these Disney plush and blanket sets are so cute. Whether you have a little boy or little girl, this might be the icing on the cake when it comes to Christmas gifts this year. You can get the Mickey Plush with Printed Blanket or the Mickey Plush with Printed Blanket. They were original $16.50 but now they are just $12. There are a few different shipping options to take advantage of as well.
Mickey and Minnie are just the greatest. I added the Mickey Plush with Printed Blanket to my shopping cart, my son will love it. I don't have to tell anyone that I intentionally bought Minnie for myself. I hope the blanket is big enough to keep my warm while I watch Disney movies with my little one.
Both of these Disney plush and blanket sets have excellent reviews, and lots of them. The plush will sit about 8" high when seated, and the matching blanket will measure close to 30" x 30". The only down fall is that you need to spot wash the toy. The description says specifically that these items are not machine washable, but the blanket is. Mickey, Minnie and the blankets are all very soft. I can't wait to cuddle up with mine. I opted for in-store pickup so that I can ensure I have these items in time for Christmas. These guys also don't have any plastic eyes or anything, so they are also safe for babies which makes them a great baby shower gift as well.
Here is one happy review from the Walmart Canada website:
I just bought this in-store after seeing it online for a Christmas gift for my son. I am very pleased with it. The blanket is soft and the Mickey is well put together. It is the perfect size for my Mickey Mouse-loving 1 year old.
When it comes to having this item shipped, there are three different options. You can spend $50 and get totally free shipping, or opt for one of the other two options if your cart total doesn't reach that amount. Walmart.ca offers free shipping to your local Canada Post Office or free shipping to your local Walmart Grab & Go Locker for free with no minimum purchase.
(Expiry: Unknown)