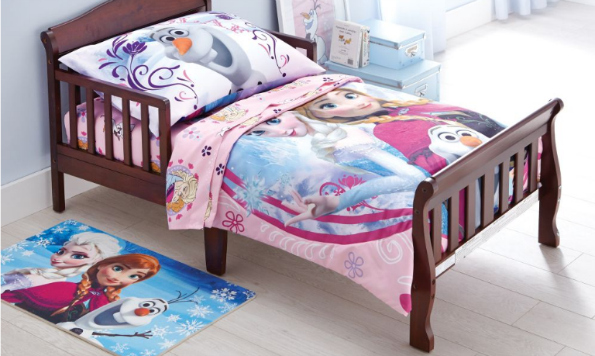 I was checking out some cool bedding sets when I found this Disney Frozen 5-Piece Toddler Bedding Set on sale from $74.99 down to $48.74. After using coupon code- 941612495 - for an extra $10 off $25 discount, this bedding set comes down to just $38.74. Receive free shipping to your local Sears Store or over 1300 Sears' outlets and locations across Canada.
This five piece bedding set includes a flat sheet, a fitted sheet, a pillow case, a comforter, and a storage bag. The Disney Frozen design includes Anna, Elsa, and Olaf - your favourite characters. The pillow case is standard size and the sheets are made to fit a 28" x 52" toddler mattress. Compared to other sets I have seen, this set comes with a bonus bag that is can be used to store clothing, toys, blankets, and more.
Rather than buy the sheets and comforter separately, this set is one complete 'bed in a bag' for your toddler. They get to enjoy their favourite Disney frozen characters while falling asleep each night. This might be a better way to get your kid in to bed as well. All that is missing is a little Olaf plush - though I would prefer Elsa. The entire set is machine washable, which is essential when you have a toddler.
I price compared what looks to be the same bedding set - minus the bag - at Toys R Us Canada where it retails for $69.99. It is out of stock online bit still available for in store pickup. I could not find the same set elsewhere but even looking at sheet sets alone - I know this is a good price. Sheet sets are around $30 alone - without a comforter.
There have been lots of questions about this set in the past - mostly concerning which pieces are included (as I have detailed above) you can find other 'matching pieces to complement this set at Sears Canada. For example, the Disney Frozen Comfort Matwas $19.99 and is now $12.99 until end of day tomorrow. It would be a nice addition to the set as shown in the picture above.
I am not sure this will arrive in time for Christmas but you could always give it a shot.
(Expiry: 16th December 2015)