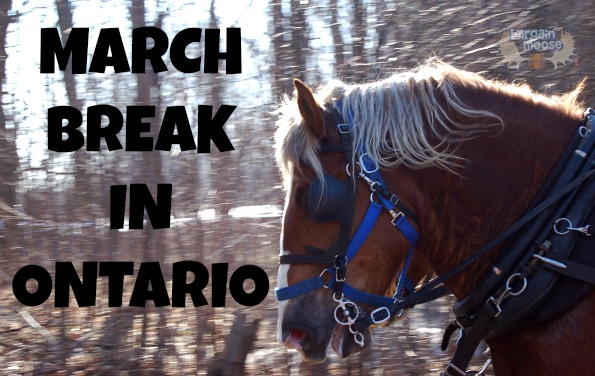 Are you ready for March Break or are you scrambling to find ideas for things to do with the kids so they don't destroy your house, your ears and your sanity over the break? I'm kidding of course. I love having my kids home, although as shocking as it might sound, by Friday of the break, I am wanting a little alone time. This year my husband has decided to take some time off, instead of trying to work in his downstairs home office while the kids come through the ceiling on him. It is up to me to tell him where we are going and what we are doing. I've collected some awesome free and discounted ideas for things to do in Ontario this March Break.
Attractions Ontario has a number of great coupons for major attractions all over Ontario. Many of them are 2 for 1 admission, which can save you a ton of money. As a kid, my favourite place to visit in Toronto was Casa Loma, or the Ontario Science Centre, both of which are 20% off with coupon. My kids would absolutely love the Medieval Times Dinner and Tournament and the coupon gets all kids and teens in for free! The Putting Edge glow in the dark mini-golf is up to $8 off, as well. Most of these coupons expire at the end of March, so you want to use them for March Break.
If you aren't from Toronto and want to see it all, your best bet is a City Pass. I am actually from Toronto and have previously bought the City Pass, because it is a great deal if you want to do a few things while there. The City Pass gets you 43% off of the five best Toronto attractions - The Toronto Zoo, CN Tower, Casa Loma, Royal Ontario Museum and the Ontario Science Centre. I have been to all five (most many times) and I will say that if you are visiting Toronto, you can't miss any of them. The books are good for nine consecutive days from the first day you use them and they are good for a year from the day you purchase them. They also allow you to skip the ticket lines, which is great when it is going to be busy out there for March Break. You can buy them from any of the attractions themselves while you are there, or online. The cost is $65.99 CDN for adults and $38.99 for kids between 4 and 12.
For the theatre lovers, Disney on Ice is playing Rockin' Ever After at the Rogers Centre all March Break and you can get four tickets for $100 or up to $15 off a ticket with this promo code at Ticketmaster. Romeo and Juliet at the National Ballet of Canada is also playing over March Break with 50% off your ticket, when you purchase four, that week.
Playdium is an interactive entertainment complex with so much for your kids to do. For March Break they are offering an extra $5 in free credits for games.
If you are coming from out of town or your kids just love hotels, there are some great deals on stays with attraction tickets included. The Delta Toronto East is located very close to the Toronto Zoo and the Ontario Science Centre is right beside two major highways that will take you to many of the other Toronto attractions. They have a pool with a waterslide, plus a great kid's program and offer deals on stays plus attractions.
Chapters has some great FREE events planned at their store, every day of March Break at 11am, including celebrating Dr. Suess's birthday, a Lego party and much more. You need to sign up to participate, by contacting your local store.
Greenhouses and conservatories in various cities around Ontario are offering free admission to their facilities, where kids can check out exotic plants and take part in the special March Break programming. Check out what you can see in London, Hamilton, Toronto and Thunder bay. I am definitely taking advantage of the one very close to my home.
Do you have a future police officer on your hands? My son says he wants to be a forensic police officer. He would love checking out police museums, and I actually think this is going on my list of things to do this break. The Toronto Police Museum and Discovery Centre sounds really cool and only costs kids $1, seniors $2 and adults $3. A little farther north in Orillia, the OPP police museum is free!
Tim Hortons is offering free swims in Ontario in Richmond Hill, Thornhill, Vaughan and Woodbridge.
And last, but not least, the thing we always do every March Break is visit our local maple syrup shack for a pancake breakfast, horse and buggy ride and to get some of those yummy maple syrup candies. You can't live in Canada and not do this. Many of them are free to visit with a nominal charge for the breakfast and other attractions depending on the farm. The picture above is one I took on our first visit with our new baby to a local maple syrup farm.
Please post below if you have any other free or discounted ideas for March Break and let us know if you took advantage of any of these deals!
Check back frequently with Bargainmoose for more money-saving ideas for this March Break. Stay tuned in the next few days to find out about discounted and free March Break ideas in other parts of Canada.