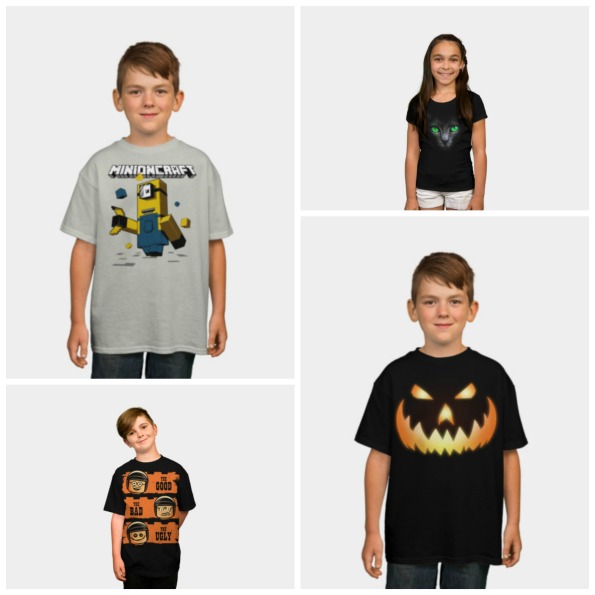 Sometimes when I am my kid's school I see a sea of the same apparel. Every kid has the Roots backpacks we all got from Costco (at a great price I might add), and so many kids have the usual Carters and Joe Fresh tops, pants and even jackets. If you want something different for your kid, you might have to look outside the country and get them clothing from International stores. The problem with this is that usually the shipping kills any deal and the duties on top make it even worse. So, when a store has free international shipping with no minimum and includes the duties right in the cart, I am all over that. Design by Humans has some great designs, with kid's tees for only $20, and you can use the coupon codeFALLFREESHIP to get the free shipping.
Click here to shop @ Designbyhumans.com now
Why these tees are so unique is that they are designed by artists for this site. Right now they've got very cool Halloween shirts, plus they also have some popular culture stuff like Star Wars and gaming. My son is obsessed with Minecraft and he actually has no apparel that denotes this. I think he'd like a few new t-shirts for Christmas, like this Minioncraft one that sort of fits the best of both worlds. This one is actually $20, and is so unique, I think it is definitely worth it. You might see that it says $24 as a price when you click on kid's shirts, but once you click a size, the price goes down to $20.
My son also loves cats, but being ten, going to school with kittens on his shirt would be social suicide. Now, this music lover cat is a much different story and I'm sure he wouldn't mind wearing this tee..
Even though I have boys, I can't leave out the many of you who have girls. This music roots top is super cool and I think I want that design for myself. What I love about Design by Humans is that many of the styles I see come in men's, women's and kids, so you could even get a match for your what your kids have. That would look super cool in a photo shoot! They also have other items like phone cases and notebooks that you could put a favoured design on.
(Expiry: 27th October 2015)