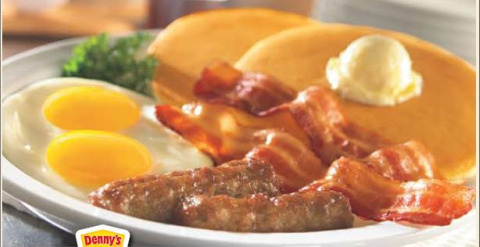 We got sent a lovely and excited email from Mooser Steven about Denny's Rewards Club. You can get a free burger and fries just for signing up!
Here is what Steven had to tell us:
I found a juicy deal! Denny's has started a rewards club. Just for joining, you get points equal to $10.00 FREE on a burger and fries meal! After that, you get 1 point for every dollar spent at Denny's. Every 200 points collected gets you a $10.00 meal discount. I love breakfast for dinner at Denny's! Cheers.
Cheers to you Steven, and thanks a million! We like free food! I personally love pancakes, yummy.
Denny's exists in the provinces BC, AB, SK, MB, and ON. Happy lunching on that free burger and fries to all our Moosers in those provinces!