If you have been contemplating a new portable computer, there's a great deal on the Dell Inspiron Mini 10 netbooks right now. The price on the Dell.ca website shows at $429.99, so you must use the coupon code 6Z087T?K6Z02LS to get an extra $30 off the cost price. The price will appear at $399.99. As always, Dell Canada do free shipping to your home!!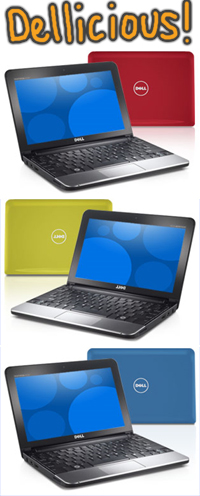 Click here to order your Mini 10 netbook From Dell Canada!
If you'd like to see a bit of the specification:
Genuine Windows® XP Home Edition
Z520 (1.33GHZ) Atom
1GB RAM
160GB Hard Drive
10.1" Widescreen Anti Glare® Displa
Intel Graphics Media Accelerator 500
1 Year Limited Warranty
It seems to be a pretty good spec for the money! You can of course customize it on the Dell website, and pay for any upgrades you wish. If you really want to, you can pay an extra $30 for different colors! I have to say, I'd pay the extra and get a cherry red case! I like to have a unique item, plus it would go pretty well with my red Sony e-book reader.
I currently have a Dell laptop, I've been using it for about a year now. I find it quite heavy though – it's just one of their standard Dell Vostro range. If you want something portable, these little Mini netbooks are really excellent. They're ok for basic office apps and net browsing, but you wouldn't be able to play the latest games on them! :D
P.S. You could also use Dealguild for 1.5% free Canadian cashback.