If you don't yet have a trendy bag for your laptop, or your current one has been through the wars and is looking a bit tatty, you might want to consider this deal from Dell Canada. They are offering the Belkin messenger laptop case for only $24.99 with free shipping.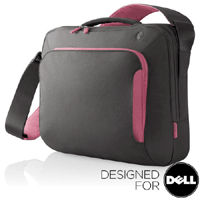 This deal is on TODAY only - so order while it is available!
I think this is a really cute laptop bag. I would say it's more targeted at the ladies though, as it is tinged with pink! It looks pretty stylish. It fits any laptop up to a 17" screen size.