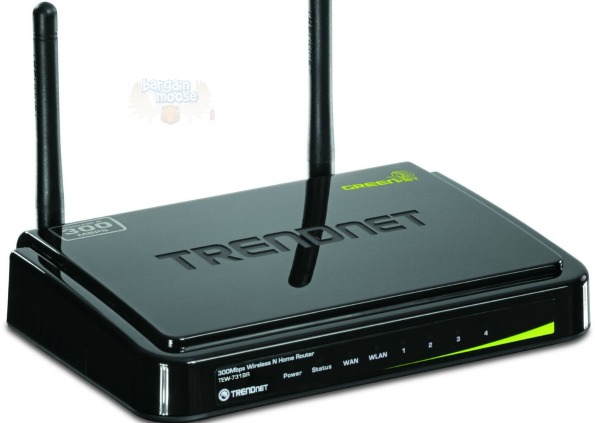 Dell Canada has discounted the TRENDnet Wireless N 300 Mbps Home Router (TEW-731BR) from $35.99 down to $19.99 with free shipping. This is part of Dell's 12 Days of Deals and will expire tomorrow morning.
A quick price comparison with other popular retailers shows how Dell Canada has the best price. Here is what other retailers are selling the TRENDnet Wireless N 300 Mbps Home Router (TEW-731BR) for:
$31.98 @ Future Shop Canada
$31.98 @ Best Buy Canada
$32.59 @ Amazon Canada
$29.99 + $7.99 shipping @ Newegg Canada
$25.99 + shipping @ Tiger Direct Canada
I think the shipping cost at Tiger Direct varies, but I was quoted $14.25 in shipping just to get the router to Vancouver Island. Ouch! Given this price comparison, the TRENDnet router at Dell Canada is $12 cheaper than any of the alternatives, once you calculate in shipping.
TRENDnet is one of the most reputable builders of home routers. With GREENnet technology, power consumption is reduced up to 50% compared to a standard router. This router comes with four fast Ethernet ports in back, an array of lights out front to let you know the status of your network, and two antennas for better coverage. There is also a one-touch wireless connection system: wireless clients can just push the WPS button to connect.
Indoors, expect coverage up to 100 meters. Outdoors, this coverage triples - up to 300 meters depending on environment. Things like concrete walls and so forth with reduce range. This reviewer found the range sufficient for his multilevel house:
so far so good. The speed and also the range is really improved from my previous router. We live in a 3 level house and the range extends over all 3 levels.
Another reviewer was also impressed with the range afforded in his rather large living space:
Great working and easy to setup. My house is 1545 sq. ft. on 4 levels, strong signal to my laptop all areas.
I think the biggest concern about any router is range and reliability. So far, the reviews are pretty great for this little router. On Amazon (the home of ample reviews), the router currently ranks 4.5/5 stars with 11 reviews.
This is a one-day deal from Dell. It will be removed from the site when it sells out or else the deal expires tomorrow morning. Pick this router up sooner rather than later if you are interested!
(Expiry: 5th March 2015 @ 6AM)