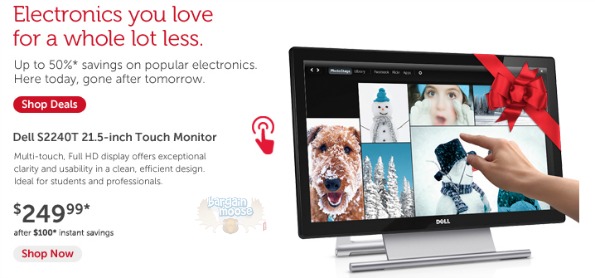 Dell is offering $100 off this sweet 21.5 inch multi-touch desktop monitor. Regularly priced at $349.99 the monitor is now on sale for $249.99.
I have seriously dreamed of a touch desktop monitor! After I am done school I plan to migrate from a laptop over to a desktop (I have this Alienware one picked out right here) and I am going to pair it with a touch screen desktop monitor. Dell makes really good monitors and this one should be no exception. It is a full HD display with 1920 x 1080 (max) resolution.
The stand is what makes this monitor truly awesome. You can slide the display toward you and it tilts as much as 60° for comfortable touching and typing. It recognizes up to ten touch points at the same time so you can get busy with all those fingers of yours. No more peck typing! Totally a must have if you have a PC desktop these days.
It will ship for free from Dell Canada.
(Expiry: 15th November 2013 @ 6AM EST)