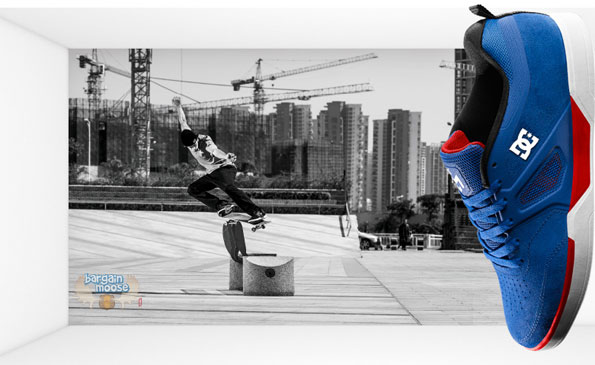 Reduced prices in the sale section are great and all but what's even better is getting an additional discount. During the next week, you can save an extra 40% off all sale styles at DC Shoes with our Bargainmoose exclusive. Plus, DC Shoes also offers absolutely free shipping on any order!
Click here to shop the sale section @ DCShoes.com now
Coupon Code: MOOSE40
Discount: extra 40% off sale
Expiry: 28th October 2014
Don't skip over this deal thinking that all DC Shoes offers is shoes. Their inventory is actually compromised of a whole lot more than just footwear and in fact, their sale section has loads of selections from bags, clothing, to sandals, accessories, snow apparel etc.
Although the style is a little too funky for my taste, I found the women's squad snowboard jacket on sale for $98.99 (reg. $199.95), which means that with the Bargainmoose exclusive, it comes even further down to just $59.39. Shopping for a nice winter jacket in the fall or even winter seasons can be somewhat of a challenge on one's wallet at times, so the fact that there is such a large discount to be had on it is actually rather surprising. This jacket could most certainly be perfect for snowboarding or even skiing as it features mesh lined venting, a hidden bandana and a waist gaiter. It's only available in XS and S, but I chose it to demonstrate just how much you can save.
Speaking of snowboarding, there are even a couple of snowboarding boots in the sale section! Given how expensive these can be, I certainly hope that all of your snowboardin' Moosers will jump at this opportunity. My favourites are definitely the women's search snowboard boots, which come down to $53.99 from a sale price of $89.98 (reg. $179.95). They come in either white or turquoise and feature a BOA H3 coiler closure system and a new Unilite outsole. The only review they have is the following 4/5 star one:
BOA system is easy to use and saves time vs. traditional laces! However, the occasional readjustment is required if boarding for the day. Inside lock for laces is hard to unlock, but it just takes time so be patient.
It's only available in a medium, but I also spotted an awesome boy's amo snowboard jacket for $32.39 instead of $53.99 (reg. $109.95) and as I'm sure plenty of parents will appreciate, it's nice and bright. Plus, it also has a near perfect rating with a total of 4 reviews.
All in all, there is plenty to choose and save on, but if you happen to miss the chance to use our Bargainmoose exclusive, then make sure to keep an eye on our forum for more DC Shoes promo codes.