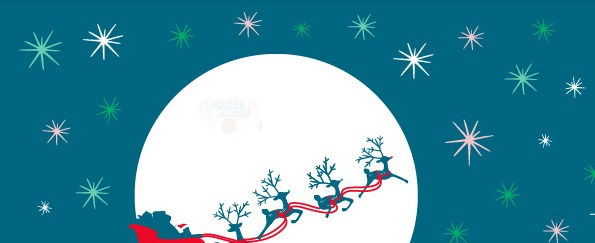 Davids Tea usually has a $50 minimum for free shipping, so this free shipping with no minimum deal is all sorts of cool for Cyber Monday. In addition, when you purchase $75 or more worth of stuff, you will receive a free 12oz Timolino worth $29.50.
Click here to shop @ Davids Tea Canada now
Coupon Code:FREETIMOLINO
Discount: Free timolino ($29.50 value) with $75 purchase
Expiry: 1st December 2014
The free shipping is automatic but for the free Timolino you need to use the Davids Tea coupon code. Do not add the product to your cart; the coupon code will do that for you.
I found a cool way to combine a few promotions to maximize savings. Right now, Davids Tea has a buy 2 for $30 offer on three delectable holiday collectible tins of tea. You can choose from:
What I found out is you do not need to have these in perfect pairs of two - as long as you have two or more they will come down to $15 each, thus saving you $4.50 per tin. After discovering this, I loaded up my cart with tins (go eggnog!) and this is how it looked: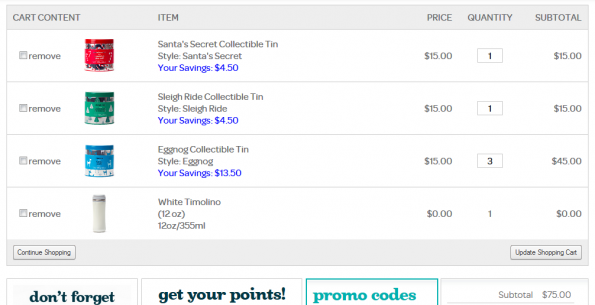 As you can see, though I have an uneven number of tins in my cart, all of then received the same discount. I saved $22.50 and received a free Timolinoworth $29.50 and free shipping. The extra eggnog tea tins will make great Christmas presents!
Even if you do not hit the $75 minimum for the free Timolino, the free shipping with no minimum promotion at Davids Tea is worth your time. I have never seen this offer at Davids Tea before. I suggest hitting up the web specials section and picking out some treats. The Pie Collection is $19.50 but comes down to $11.70 at checkout. It includes Lime Gelato, Strawberry Rhubarb Parfait, and Blueberry Jam.
The Take Me to India black tea collection also looks delicious. Also priced at $19.50, it comes down to $11.70 in your cart. Enjoy Assam Banaspaty, Second Flush Darjeeling, and Pure Chai. This set also comes with one pack of 20 tea filters.
With all online orders at Davids Tea, you will also receive three free samples of tea. This is a great way to try new teas as they have so many it is nearly impossible to try them all.