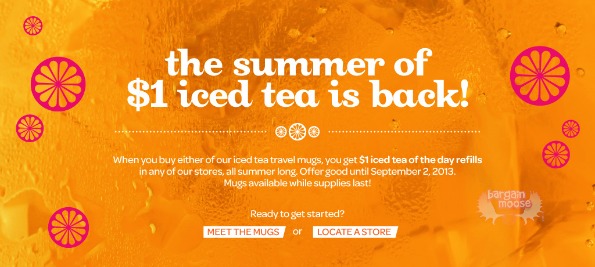 Buy a travel mug from David's Tea (in-store) and pay only $1 for your iced tea for the entire summer!
I'm not sure how much an iced tea normally is, but I love when drinks are only $1! With so many flavours of iced tea, you could get a different one every single day. Choose from delicious concoctions like mango madness, kokomo green and organic blueberry jam.
The mugs are really cool and very useful. You can use them anytime for any drink, not just your tea. The first one is $9.95 and is a double walled, BPA-free mug with a plastic snap lid. The second is a little larger (16oz), has a silicone grip and a leakproof lid. Get this one for $14.50.
The price of the mugs are well worth the savings on the tea, because in the end, you'll still have a great travel mug for a great price.
(Expiry: 2nd September 2013)