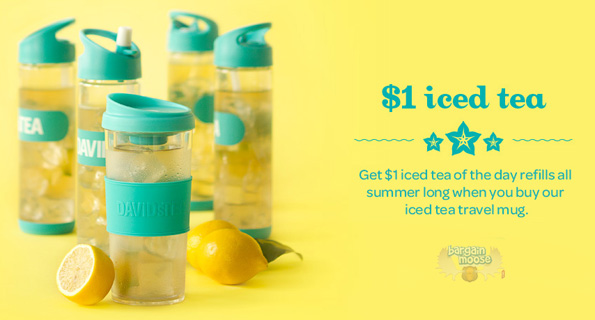 How do you feel about sipping on an iced tea every day of the summer for just one dollar? That's right! David's Tea's $1 iced teas of the day refills are back, which means that if you bring one of their iced tea travel mugs, then you can get the iced tea of the day for just one dollar.
The iced tea travel mug is $14.50 and is surprisingly good quality. I have it and I have to admit that I was somewhat iffy about its effectiveness but it definitely keeps my iced drinks cool. What I like the most about it is that it has yet to leak in my purse, even though I have found it turned upside down countless of times.
It comes in a 160z (473ml) and features a silicone grip to ensure that you won't drop it if too much condensation builds up on the outside. Even better is that you can also use it for hot drinks. I haven't yet tried it out on anything hot, but judging by how good it is with cold drinks, I imagine it would be just as great at holding a hot drinks hot.
Although the description claims that this mug can handle anything thrown its way, I wouldn't advise throwing it into the dishwasher. I have had one too many tumblers break because of the high heat from the wash cycle.
You can also get a kids' iced tea mug for just $9.50.
Every week, David's Tea releases a list of their tea of the day for the week on their Facebook page, so be sure to check it out to plan your week! :D
Shipping is free on orders over $50, so it would be a good idea to grab a couple of teas while you're getting your mug. My favourite is the hot tropic tea, which just so happens to be their tea of the month right now. It's the perfect tea to brew over ice as its main ingredients are mango and coconut, which provide for a refreshing blend. Although you can get 50g for $7.50. if you get 100g for $15, then you will also get a free tin.Plus, each order also qualifies for 3 free samples of tea.
(Expiry: 26th August 2014)