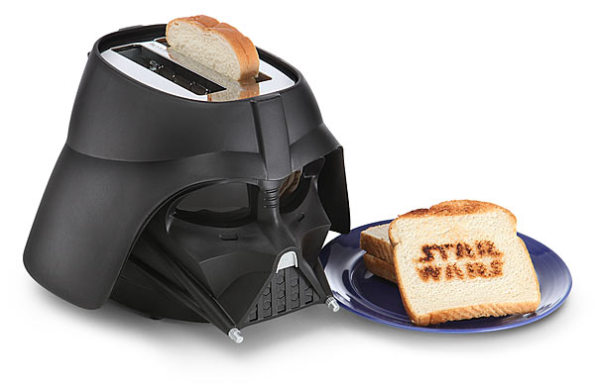 Awesome! This toaster is fabulous for Star Wars fans world wide. The Source Canada has the Pangea Darth Vader Toaster for sale for just $39.99, which is an awesome price for such a unique item. It is the lowest price you will find in Canada, and shipping is even included. This price will be available until November 25th (if quantities last that long).
Are you looking for the perfect Christmas gift for that Star Wars fan in your household? Look no more. The Pangea Darth Vader Toaster is a perfect gift for anyone who loves Star Wars or Darth Vader. If you love Star Wars yourself, then now is the time to splurge a little and get an item for your kitchen that suits you. For just $39.99 including shipping you can toast bread, waffles, english muffins, toaster pastries and more. Guess what? The Star Wars logo will even be burnt into your snack.  You can also bet that this is the lowest price around for this unique Star Wars Darth Vader Two Slice Toaster. Check out the price on this item at other Canadian retailers:
$59.99 @ BedBathAndBeyond.ca
$90.02 @ Amazon.ca
The temperature is adjustable, so you don't have to worry about toasting that delicious toaster strudel. It also has a defrost option and a quick stop function. The crumb tray is removable, which really is a life saver. Crumb trays make cleaning up so much easier. I still can't believe that Darth Vader's head is really a toaster! Since this is a two slice toaster, you can toast two slices of whatever at once. I can imagine if Darth Vader were to be alive, he would wake up groggy in the morning and enjoy a Dark Side Roast coffee. Then he would have another great start to his day with some delicious toast or waffles made in a toaster that resembles himself, with a Star Wars logo imprinted on his snack. Now you can have a Star Wars toaster of your own, and I am not sure why you haven't added it to your cart yet.
The Source is including totally free shipping with this purchase, and expected shipping is just 2 business days. You can also have the item shipped to your local store, but that doesn't make much sense when you could just have it shipped to your door at no extra charge.
Moosers, are you ready for some toast of the dark side?
(Expiry: Unknown)