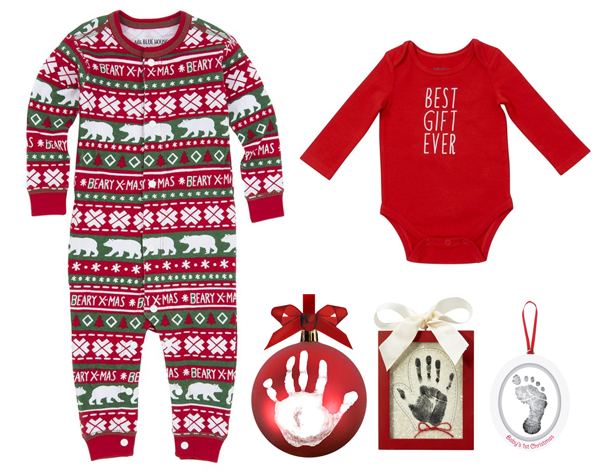 In the Chapters pre-Black Friday deals which we mentioned here the other day, there are some great fun deals if you're on the lookout for Christmas gifts. One section in particular is super-cute, as you can see from the image above! There is a 20% discount on a ton of baby's first Christmas items, and there is everything from blankets to baubles. Have a look!
Now, 20% might not sound alike a huge discount overall, but I have done a bit of digging and I think some of the deals are even better than this. For example, the very first item that caught my eye was this Beary X-Mas Hatley Infant Union Suit which is priced at $24, and I've pictured it at the top left. The exact same item is $38 to buy here on the Hatley site. As you can see, the Chapters deal is soooo much better!
I also LOVE this Best Gift Ever Onesie for babies aged 6-12 months. It's down from $12 to only $9.60 and I've pictured it above as well. That'd be a really cute gift for a little one. Plus you could use it on either gender.
A few more adorable items and their prices:
The last item there – I think it would be a fabulous gift. Once you'd made it for baby's first Christmas, you could then have great pleasure in unwrapping the Christmas decorations, year on year and and seeing how much the child has grown.
Don't forget to have a glance at this Cabin Cozy range – it's gorgeous! I really love the little dressing gown there.
Shipping notes: Shipping is free to your home if you spend $25 or more!
(Expires: unknown)