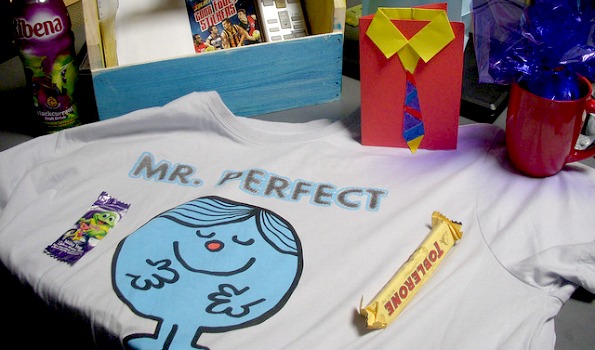 Here is the perfect opportunity to make a personalized gift for someone special. Kulapix currently has a fantastic deal on custom photo t-shirts. These shirts were $14 but are now only $7. Kulapix also has 50% off sitewide with no exclusions.  You can get photos printed, make custom coffee mugs or create other fun photo gifts for half the retail price.
Custom photo t-shirts are a fun gift to tell Dad you love him. I did this for my husband a few years ago as a Father's Day gift and he loved it. Whether you make a funny design or make it more heartfelt, it is just fun to have a personalized t-shirt made just for you. With this fantastic price, I could justify surprising someone with good news on a t-shirt such as "we're having a baby" or "Family trip to Cuba 2015." If anyone would like to purchase me a trip to Cuba, I will bring you a customized shirt!
This deal at Kulapix includes a standard white t-shirt with whatever personalized photo and text you include. The shirt is available in adult sizes from small through double extra large. There are quite a few templates to choose. There is also an option to upload a single image. You can get creative and make your own design from scratch using a free program such as Picmonkey.
Custom t-shirts generally are a lot more expensive than the price over at Kulapix right now. You will pay $19.99 to make a similar t-shirt at Black's Canada and shipping is an additional $10. A custom t-shirt with a photo at Cafepress.ca will start at $27.50 and shipping is another $18. There are a lot more options for different styles of shirts, but you pay much more to have those choices.
Prints  are currently only $.08 each for size 4X6". That is way cheaper then you will normally find including prints at Costco Canada, which start at $.17 for size 4X6". I usually go the Costco route, but I think I will have to make an exception this time.
Make sure to throw a photo card into the mix. The cards were $2.75 but now are only $1.38 if you purchase between one and nine cards. I checked out the prices for a photo card over at Black's Canada and a single card starts at $4.99. I made one of these cards for my mom and for my husband for Valentine's Day, and I felt they were a great quality image.
Shipping is free if you spend a minimum of $49. If you just want to order a few smaller items, shipping costs are dependent on your location and on the item you order. I found the shipping prices to be very fair, costing only $2-$3 for paper items and from $5 to $10 for items like the coffee mug or t-shirt. This shipping cost is right on par with the competition. Order before this deal is over on June 5th, and your gifts will be to your house in plenty of time for Father's Day.
Image Credit: David Wallace
(Expiry: 5th June 2015)