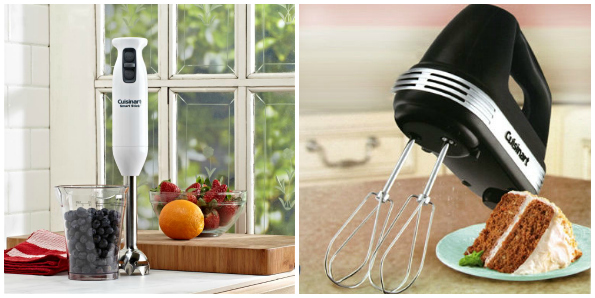 Hudson's Bay Canada has some pretty impressive deals on right now as Bay Days have started. I was checkout out some small kitchen appliances when the deals on Cuisinart struck me as particularly good. The Cuisinart SmartStick Two-Speed Hand Blenders, the Cuisinart Mini-Prep Plus Food Processors, and the Cuisinart Power Advantage Five-Speed Hand Mixers are all on sale from $59.99 down to $27.99 each!
All three of these appliances are well used in the average kitchen. The mini-prep food processor chops and grinds foods. It has a three cup (750 ml) work bowl to accommodate small to medium jobs. The hand blender has a 200-watt motor with two speeds: high and low. it would work well to puree soup. Lastly, the hand mixer has a 220-watt motor with five different speeds for mixing ingredients. The rotating swivel cord keeps the cord out of your way. It is super convenient for left and right hand use.
The hand blenders and the food processors come in four distinct colours: blue, purple, red, and green. The Hand mixer only comes in three of those colours: purple, red, and blue. You could easily do a set of all three appliances in matching colours. I would pick the purple set myself. The purple set has all three appliances: SmartStick Two-Speed Hand Blender, Mini-Prep Plus Food Processor, and Power Advantage Five-Speed Hand Mixer. However, I already have a stand mixer so I would probably just pick up the hand blender and food processor.
I did a quite thorough price comparison of this lot and found them at other online retailers for:
Hand Blender:
$44.99 @ Amazon Canada
$49.99 @ The Source Canada
$57.89 @ Staples Canada
Hand Mixer:
$39.99 @ Amazon Canada
$55.99 @ Sears Canada
$49.99 @ The Source Canada
$57.89 @ Staples Canada
Food Processors:
$49.99 @ Amazon Canada
$39.97 @ Walmart Canada
$57.89 @ Staples Canada
$49.99 @ The Source Canada
These are the same appliances at much higher prices than the cost at Hudson's Bay right now. Sorry this is such a long list, but I wanted to make sure that you knew this is the best price out there. Hudson's Bay Canada offers free shipping on $99 or more (or $49 if you have an HBC card). However, shipping is relatively cheap for small orders. Orders under $50 are just $5.95 and shipping only goes up a few dollars from there.
(Expiry: unknown)