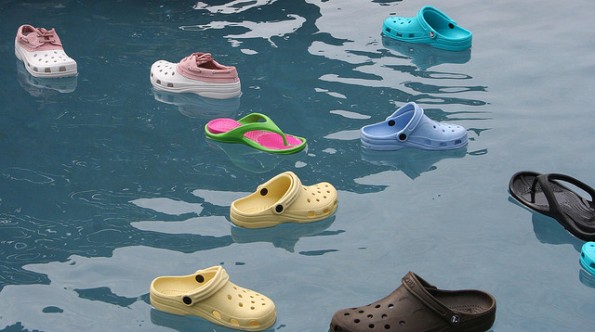 Crocs Canada is offering 50% off select Crocband shoes for adults and kids. Pick up a few pairs now as this deal only lasts for two days.
Crocs are the ultimate shoe for comfort but not so much for style. Screw style, winter is coming and the faux hardwood floors in my home get so gold my feet feel like they are turning into miniature icebergs.
For adults, choose between the Crocband and theCrocband II.5 Clog. Both look pretty close to the same but you will notice subtle differences. The logo has moved from the back to the side. On one pair, the stripe goes all the way around whereas on the other style the stripe does not go across the front of the toe. Instead, the front toe looks more like a sneaker toe. I also think the Crocband original might have a more upturned toe than the 11.5 but that might be my imagination. Financially it does not matter which pair you buy. Both were $44.99 originally and are on sale for $22.49 for today and tomorrow.
Adults can also purchase the Crocband Flip for just $16.49, originally $32.99. Honestly, I would use these instead of slipper around the house. I know the legendary comfort of the Croc footbed that is far superior to any slipper I might buy. These or the Crocband shoes would be so comfortable while doing dishes or housecleaning.
For the kids, you also have the option between the traditional Kids' Crocband or the Kids' Crocband II.5 Clog. Originally $34.99, these clogs are reduced to $17.49 a pair. I think Crocs make an excellent option for kids, as they are super durable and will probably last longer than your child will fit into them. Then they can be handed down or given away.
While I do not like the way Crocs look, I love the way Crocs feel on my feet. They are so comfortable I could just live in them.Crocs are also great in water and you can clean sand out of them easily so they make a great beach sandal. I totally understand why people buy and wear them all the time. Fortunately, Crocs do come in more colours than ever these days so many I can find a colour combination I actually like.
There is a $9.99 shipping charge but if you shop for over $100, then your order will qualify for free shipping.
Image credit: David Chidester
(Expiry: 23rd October 2014)