Wednesday is already upon us, and I extend sincere apologies to our Bargainmoose readers for posting this for you late this week.
So as to get this out to you sooner, I created a categorized list format of the Costco West Best Deals this week.
You can copy and print this off and circle what you want on your list prior to going into the Costco warehouse this week. Most of these products are familiar and you will be able to see them in our previous Costco West Best Deals posts if you would like to try to see a picture of the product. I have listed sizes and amount of product as well, to assist.
These Costco West deals pertain to B.C., Alberta, Saskatchewan, and Manitoba locations. It's time to start planning your shopping trip to Costco this week!

Please feel free to join the Costco Canada West Deals Facebook group where you can quickly spot the best deals, *and post deals that you find!*
Costco always displays their weekly coupons online. To the best of our knowledge, these are the current prices, but in-store prices always take precedence over our listed prices. Keep in mind that any prices ending in .97 can fluctuate from store to store.

Looking for Costco East Deals this week? (You may also wish to join the Costco Canada Eastern Deals Facebook group if you are from the Costco East locations.)
Assorted (Home/Electronics)

Brita water filters pack of 8 - $27.99, Reg. $34.99
Xbox one wireless controller - $39.99, reg. $49.99
Dyson DC66 vacuum cleaner - $489.99, reg. $589.99
Deli
Lilydale sliced turkey breast - $14.49, reg. $17.99
Danesborg Havarti, (plain or jalapeno) 1 KG - $11.99, reg. $14.99
Duso's chicken tortelloni - 3 x 500 g - $8.99, reg. $11.99
Skotidakis Tzatziki - 2 x 454g - $6.89, reg. $8.89
Pantry
Starbucks French Roast, 1.13 kg - $18.99, reg. $24.99
Frank's Red Hot sauce, 2 x 680 mls - $5.99, reg. $7.99
Nesquik chocolate syrup (with less sugar), 2L - $9.99, reg. $12.99
Munchies Snack Mix (Has Doritos, Cheetos, Sun Chips & Rold Gold) 1.1 kg - $4.99, reg. 6.99

Ritz Crackers, 1.4 kg (in sleeves) - $6.99, reg. $8.99
Christie Arrowroots, 1.4 kg - $7.99, reg. $9.99
Bullseye bold original barbecue sauce, 2 x 940 ml - $5.99, reg. $7.99
Swift premium canned ham, 3 x 600 g - $11.99, reg. $14.99
Carnation coffee-mate, 1.9 kg - $7.69, reg. $9.69
Kellogg's Vector cereal mega pack, 1.13 kg - $6.99, reg. $8.99
Goodhost Lemonade dry powder mix, 2.35 kg - $6.99, reg. $8.99
Food Should Taste Good multigrain chip, 680 g -$4.99, reg. $6.99
Kraft parmesan cheese, 680 grams - $11.99, reg. $14.99
Ritz handi-snacks cheese & breadsticks, 24 pack - $6.99, reg. $8.99
Catelli Spaghetti, 4.2 kg - $7.99, reg. $10.89
Quaker chewy chocolate chip granola bars, 48 x 26 g - $8.89, reg. $11.89
Mars (chocolate bars) variety pack, 18 + 2 - $10.99, reg. $12.99
Starbucks French Roast, 1.13 kg - $18.99, reg. $24.99
Frank's Red Hot sauce, 2 x 680 mls - $5.99, reg. $7.99
Nesquik chocolate syrup (with less sugar), 2L - $9.99, reg. $12.99
Munchies Snack Mix (Has Doritos, Cheetos, Sun Chips & Rold Gold) 1.1 kg - $4.99, reg. 6.99
Ritz Crackers, 1.4 kg (in sleeves) - $6.99, reg. $8.99
Christie Arrowroots, 1.4 kg - $7.99, reg. $9.99
Bullseye bold original barbecue sauce, 2 x 940 ml - $5.99, reg. $7.99
Swift premium canned ham, 3 x 600 g - $11.99, reg. $14.99
Carnation coffee-mate, 1.9 kg - $7.69, reg. $9.69
Kellogg's Vector cereal mega pack, 1.13 kg - $6.99, reg. $8.99
Goodhost Lemonade dry powder mix, 2.35 kg - $6.99, reg. $8.99
Food Should Taste Good multigrain chip, 680 g -$4.99, reg. $6.99
Kraft parmesan cheese, 680 grams - $11.99, reg. $14.99
Ritz handi-snacks cheese & breadsticks, 24 pack - $6.99, reg. $8.99
Catelli Spaghetti, 4.2 kg - $7.99, reg. $10.89
Quaker chewy chocolate chip granola bars, 48 x 26 g - $8.89, reg. $11.89
Mars (chocolate bars) variety pack, 18 + 2 - $10.99, reg. $12.99
Beverages
Mott's clamato juice, 1.89 L x 4 - $11.79, reg. $12.99
SunRype pure unsweetened apple juice, 1L x 12 - $11.79, reg. $15.99
Coke products (Coke, Coke Zero, Canada Dry, etc.) 355 mls x 32 - $9.39, reg. $11.89
Sun Tropics coconut water, 17.5 ounces x 12 pack - $13.99, reg. $17.99
Gatorade & Gatorade G2, 591 mls x 28 - $13.39, reg. $17.39
Detergents, Cleaning and Paper Supplies
Cascade Power Clean dishwasher detergent tabs, 115 count - $15.99, reg. $19.99
Palmolive Advanced dish detergent, 5L, $7.59, reg. $9.89
Resolve laundry stain remover - 1.8 L + 650 ml spray bottle - $9.49, reg. $11.99
Tide Advanced power liquid detergent, 81 washloads - $19.99, reg. $23.99
Liquid Cheer HE Pure Clean laundry detergent, 110 washloads - $8.79, reg. $10.99
Febreze fabric refreshener, 2 x 800 mls - $7.89, reg. $9.89
Kirkland Signature create a size paper towel 12 rolls x 160 sheets, $13.99, reg. $16.99
Purex bathroom tissue, 40 rolls x 234 sheets - $14.99, reg. $19.99
Alcan Aluminum Foil 3 pack - $9.59, reg. $12.79
Ziploc Sandwich bag, 4 x 150 - $12.69, reg, $15.89
Pets
Checkups dog treats, pack of 24 - $12.49, reg. $15.99
Frozen
Nestle Itzakadoozie, 10 x 80 mls - $6.99, reg. $9.99
Cavendish crispy coated fries, 4.25 kg - $7.99, reg. $9.99
Pinty's salt & pepper wings, 2 kg - $17.99, reg. $22.99
Kirkland Signature garden burger, 15 x 113 g - $11.49, reg. $14.99
Authenic Asia shrimp wonton soup, 6 x 145 g - $11.49, reg. $14.49
Trident panko coated alaskan fish sticks, 1.8 kg - $12.50, reg. $15.99
Iceberg Variety Pack frozen treats, 40 count - $10.99, reg. $13.99
Dairy
DanActive drinkable probiotic yogourt, family pack of 16 - $7.49, reg. $9.89
Oikos greek vanilla yougourt, 2 x 850 g - $9.39, reg. $11.79
Kraft tex mex shredded cheese, 2 x 500 g - $11.99, reg. $15.99
Kraft cheese slices, 1.25 kg - $6.79, reg. $8.79
Grimm's nitrate free bavarian smokie, 2 x 900 g - $12.99, reg. $17.99
Pharmacy and Personal Care
Cottonelle freshcare flushable cloths, 504 - $15.99, reg. $19.99
Nature's Bounty calcium and D3 gummies, 120 - $7.99, reg. $10.99
Kirkland Signature Glucosamine Chondroitin & MSM, 300 tablets - $24.99, reg. $32.99
Webber Naturals extra strength glucosamine chondroitin sulfate, 300 capsules - $23.99, reg. $29.99
Webber Naturals melatonin 5 mg (easy dissolve) 240 tablets - $8.99, reg. $11.99
Wellesse liquid calcium with vitamin D, twin pack 2 x 1L, $7.99, reg. $12.99
Jamieson body guard joint and bone - $21.99, reg. $29.99
Jamieson vitamin B12 1200 mcg, 180 tablets (time released) - $12.99, reg. $17.99
Here is this week's list of Costco Savings - Most of these we have already covered above: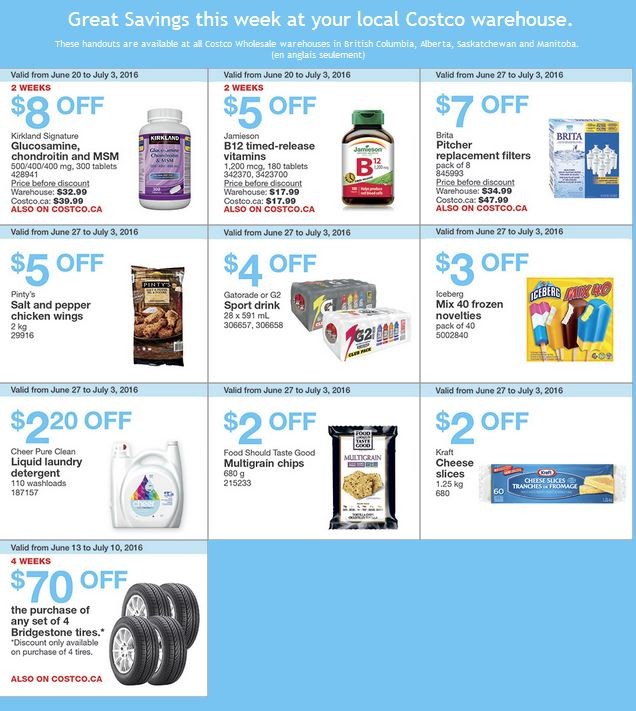 (Deal expiry: July 3, 2016)