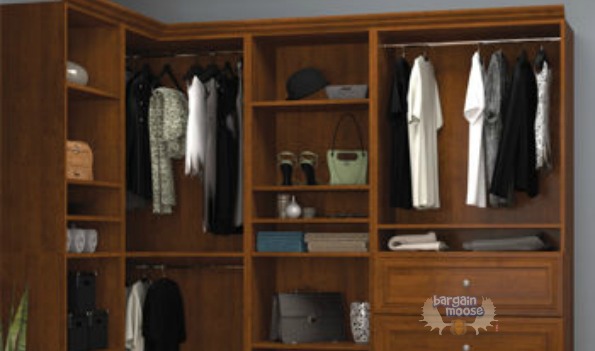 Get up to $200 off Organize It closet organizers, right now at Costco.
These closet organizers remind me of Ikea closets, but much better! They are such a good deal with the $200 off. I'm actually considering getting one. My closet badly needs a makeover. I can't find anything I'm ever looking for, and everything is either hung on a hanger on one long bar, thrown on top of the one shelf, or thrown on the floor. I need one of these! Not just durable and functional, these organizers even look great with satin nickel drawer pulls, crown molding finishing and very attractive colour choices. You can configure these in any way you'd like and add to them with other pieces.
Look at this amazing corner closet in a variety of colours. I love the classic look of the Tuscany brown. It includes the 2 x 64-cm (25-in.) storage units and 91.4-cm (36-in.) storage shell with three drawers. You also get four poles, nine shelves, and a wire grommet in back panel to allow for electrical outlets. Was $1,099.99, now $899.99.
If you need something a little smaller, I love the classic closet, especially all the cubbies and the place to put many shoes. Was $869.99, now $699.99.
The multi-storage cubby would work great in a front hall closet or mudroom. Was $289.99, now $249.99.
As always, you'll also get free shipping, which is awesome for an item as cumbersome as this.
(Expiry: Unknown)