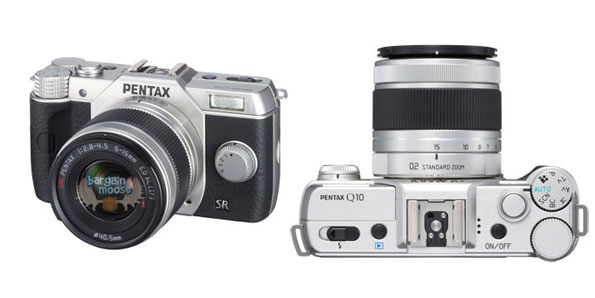 If you're looking to buy a new digital camera, then Costco is selling the Pentax Q10 camera for just $199.97.
Towards the last trimester of my pregnancy, I upgraded to an iPhone 5s from the 4s generation one because I figured that with the imminent arrival of my baby, I would need a better camera. In hindsight, I should have perhaps kept my old phone and bought a digital camera instead because although the quality of my pictures has definitely improved, they definitely don't compare to those taken with actual cameras as they are grainier when zoomed into.
The Pentax Q10 has the following noteworthy features:
12.4 MP camera with a CMOS sensor
3" LCD monitor
full HD video
5 fps high speed continuous shooting
The Photography Blog also recommends this camera for the everyday user as it has DLSR-like qualities without being a full-fledged DLSR one. I also really like that it's small enough to fit into a pocket, or perhaps an overstuffed purse (;)) and only weighs 180 grams.
As for the battery life, according to Costco's description, it can take an average of 260 pictures before needing to be recharged. The battery itself is also a lithium-ion one, which means that you won't experience significant loss of charge when the camera isn't in use. I particularly like this aspect as I'm definitely guilty of forgetting to recharge my electronics after using them.
I am very impressed for how much camera you get for a little price. It takes great shots if your not a pro but love pictures. Fun to use and looks smart. Super small and compact.
I love how that reviewer writes that this digital camera looks smart. I'm not too savvy with cameras, though I fancy myself to know a thing or two, but I definitely wouldn't mind busting out this gagdet and taking pretty pictures, while turning the dial to the right setting as if I know exactly what I'm doing. Just kidding, but if you're an everday photo-taker, then I'm sure you will catch my drift.
At $199, this is definitely the best deal all around for this nifty camera, especially since Amazonhas it for $336.39 and The Camera Store is selling it for $379.56.
Even better is that Costco always offers free shipping on the vast majority of its products and you won't have to worry about any pesky shipping fees.
(Expiry: unknown)