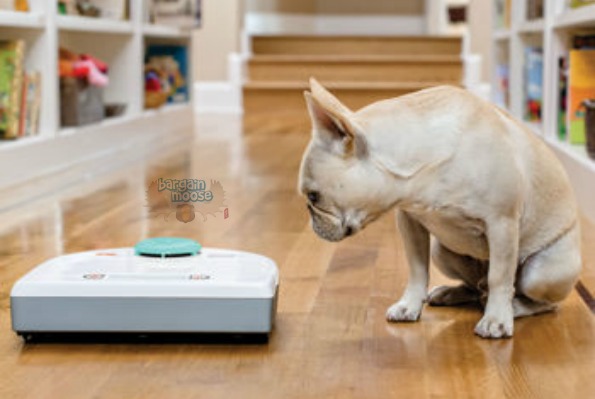 Want the vacuuming done for you? Well, you truly can have your cake and have the mess cleaned up too with the Neato Botvac, on sale at Costco right now. This Neato Botvac 65 pet & allergy robotic vacuum was $479.99 and now only $379.99. Of course, Costco will also give you free shipping too.
With three kids, a dog and two cats, you can imagine what my floors look like. Some days I really feel like giving up and moving into a barn because no matter how much I sweep or vacuum, I can find crumbs, dog hair, dirt, food and much more everywhere. I'm really considering these vacuum so I can just start it after the kids leave for school each day then again after they go to bed. Then, it will be at least clean twice during the day when the kids are not around!
With this robotic vacuum, you can even schedule cleanings. It has an advanced laser guided mapping and navigation system, which means it knows where it has already been and where it will go next. It definitely has that advantage over me already. Even better, you don't even have to remember to recharge it, it returns to the base itself and recharges! Again, another advantage over me and my kids who don't know when to go to bed.
You will, however, have to empty the extra-large bin on a regular basis. It can't do everything, you know.
Looking at price comparisons at other Canadian retailers, Amazon sells this by a secondary seller for $504. I couldn't really find it elsewhere, but Walmart does have a large selection of Neato robotic vacuums, all selling for more than the price of this vacuum.
There is only one review on Costco's site, but it is a fairly comprehensive one, giving it five stars out of five. Their only issue was that the filter needed to be replaced often, which I would assume would be typical of any smaller vacuum like this with a small filter that does its job. Luckily, Costco also supplies you with four bonus filters, which should last you about half to a full year.
I have two dogs and fairly large one bedroom apartment. This vacuum quietly (I wasn't expecting that) cleans the entire apartment on a single charge —with plenty charge left at the end of a cleaning cycle). It also navigates under and around all of my furniture, and manages to climb over low-lying obstacles (like a large rubber bump strip that hides the coaxial cable). It also moves from room to room without difficulty and does the whole apartment on a single charge.
Bargainmoosers, have you tried this vacuum and what are your thoughts? I need a mini robot to do my cleaning!
(Expiry: 15th March 2015)