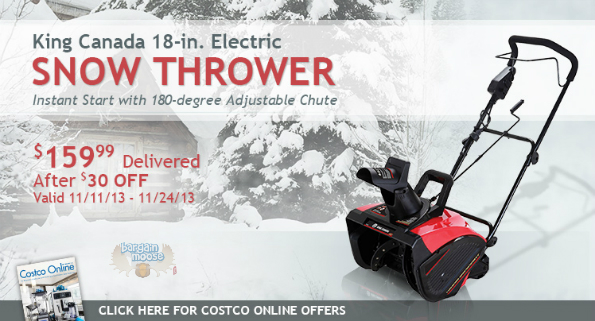 Winter is coming but shoveling doesn't have to with this King Canada Snow Blower from Costco!
I got a snow blower two years ago and I love it. Last year it broke and they took forever to fix it but once it was fixed, I was in love again. There is nothing quite like clearing out all the snow simply by walking up and down your driveway a few times. It's a blasty-blast.
The King Canada 13A Electric Snow Blower was $189.99 but you save $30 so only pay $159.99. I couldn't find this exact snow blower anywhere but I did see a similar 13.5A electric model for $220 at Home Depot.
Now, this is not the snowblower for everyone. I have about 120 feet of driveway. 60 feet or so is a steep hill with a giant granite boulder in the middle that makes it very rough going. I bust a lot of suspension parts in my truck. We get 20 - 30 centimeters of snow twice a week for two and a half months. This particular snow blower would die if I tried it on my driveway. But if you live somewhere with a small driveway or not a lot of snow, this is the way to go. If you've been dug out by the Army Corps. of Engineers for less than 15 centimeters of snow, this is probably a good choice.
Shipping is free!
(Expires: 24th November 2013)