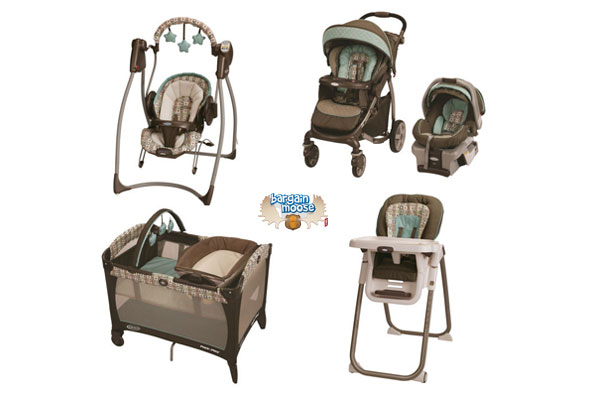 Shopping for the imminent arrival of a baby? Then here's an absolutely amazing deal from Costco: for a limited time, you can get the Graco 5-pc Soho Squares set for just $589.99, down from $719.99. The set comes with a Click connect travel system (stroller and car seat), a pack 'n play, a swing along with a high chair.
Ever bought something, only to wish later on that you could have taken advantage of a different kind of deal? This is exactly how I feel about Costco's Graco deal because so far, I have gotten both the Graco travel system and the pack 'n play separately but I'm still in need of a high chair. As for the swing, I bought the Ingenuity InLighten cradling one that I wrote about recently).
Here is a breakdown of how much each item is worth on their own at Toys R Us:
The total of which comes up to a whopping $909.96. So if we look at Costco's current price, that's actually 35% off the price of if you were to get all of the items at Toys R Us. Even better about getting this set at Costco is that shipping is absolutely free. I can't even begin to tell you how much of a pain it was to bring my Graco travel system home. Since there was no way the box was fitting inside my teeny car, I had to open it in-stores and then play tetris with all of the pieces -- definitely quite the experience, but not one I would want anyone else to go through.
Although I can't vouch for neither the swing nor the high chair, I do, however, love the travel system and the pack 'n play! Although the stroller is slightly on the bulkier side, it's super easy to manoeuvre, the storage basket has plenty of room and I love that it comes with cup holders. The pack 'n play is great as well, but I have to admit that I never once used the changer, though I originally saw it as a neat feature to have.
(Expiry: 13th July 2014)