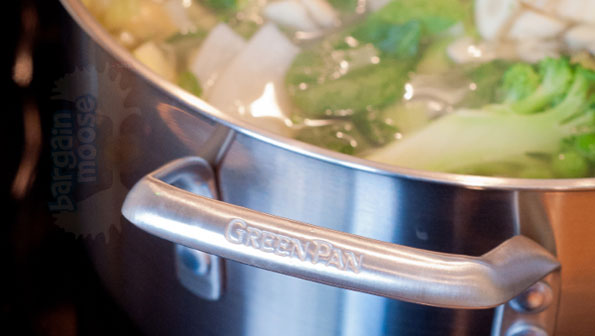 If you're in need of a new cookware set, then here's a really great deal on one at Costco. Right now, you can save $100 on the Mark McEwan by Greenpan Healthy Ceramic 10-piece hard anodized cookware set and get it for just $189.99 instead of $289.99. Shipping is also absolutely free.
First of all, let me start off by mentioning that this exact same cookware set is currently priced as high as $669.99 at Hudson's Bay -- wow, crazy price difference, isn't it? A couple of months ago, Hudson's Bay dropped the price on the Mark McEwan cookware set by an impressive 70% for 2 days, down to $199.99, but that's still higher than the current price drop at Costco.
There are no reviews for it at Costco's site, but at Hudson's Bay, one reviewer gave it a 5/5 star rating with the following comment:
Great performance. Easy to control and even easier to clean up. I get why McEwan puts his name on this set.
All in all, this cookware set features a Thermolon healthy ceramic coating that is non-stick and that is heat resistant up to 450°C. According to Costco's description, it also needs les oil and fats to cook the food and it is supposed to provide better heat retention as well as distribution as it is made from hard anodized aluminum.
The Mark McEwan cookware set comes with the following 10 pieces:
7.9" fry pan
9.4" fry pan
1L sauce pan + cover
1.5L sauce pan + cover
2.1L sauce pan + cover
4.9L sauce pan + cover
At The Shopping Channel, I spotted the GreenPan Perfect Pan cookbook currently on sale for $4.33. It was originally priced at $14.99, which puts it as a 71% discount. While I wouldn't recommend that you get it on its own because of the $6.99 shipping and handling fee, it could be great as a filler item if you were planning on buying something from their site anyways. You can either use the Shopping Channel promo codeSHIP150 to get free shipping when you spend over $150 or until the end of the day today (Sunday, July 26th), you can use the promo code JULYXMAS to get a 25% discount on holiday decor.
(Image Credit: Eat Live Travel Write)
(Expiry: 2nd August 2015)