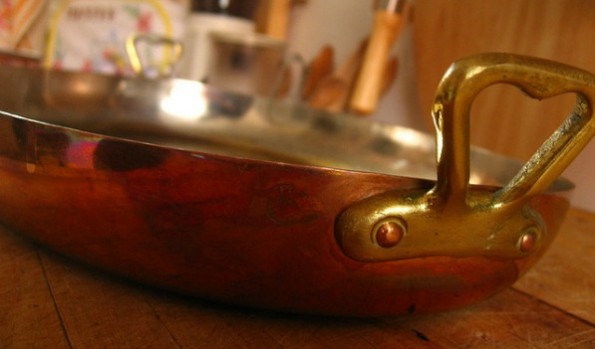 Are your pots & pans looking a little tired?  It is a great time to replace them with some shiny new ones with this discount code from Consiglio's Kitchenware: 10% discount on cookware plus free shipping!
Click here to shop @ ConsigliosKitchenware.com now
Coupon Code:  SAVE10
Discount:  10% off all cookware plus free shipping
Expiry:  27th July 2014
I have a few weddings coming up, and along with them a few bridal showers. Do you struggle like I do to come up with shower gifts?  I usually give cash as a wedding gift, but showers are all about opening actual gifts (in my opinion) so I like to show up with a beautifully wrapped package. I like to give one really great quality kitchen item that will last for a long, long time.  Some of my favourite gifts from when I got married are from brands carried at Consiglio's Kitchenware.
I love love love my Emile Henry pieces.  They are super high-quality and durable, but also so easy because you can use them in the oven, microwave, and even dishwasher.  Every year they come out with some new colours, generally versions of primary colours, so your collection can be a little eclectic.  The Emile Henry Red Round Stewpot 3.2L (now only $170.10, was $188.99) offers great even cooking and is 30% lighter than a comparable metal pot.  I throw some stewing meat, veggies & wine in there, let it go in the oven for a couple hours, and with minimal effort I have a gourmet meal on the table in an already beautiful serving dish!
Le Creuset Stainless Steel Cookware
Le Creuset is like the Rolls Royce of cookware.  I love the look on a bride's face when she opens up a box to a gorgeous, shiny Le Creuset piece.  Their newest line of cookware includes internal markings for perfect measurements and lid vents for steam release.  The Le Creuset Stainless Steel 9.5" Saute Pan (now only $135, was $149.99) is a great gift idea.  This pan will last a lifetime and if it doesn't, the lifetime warranty will cover it. Great even heat distribution, and a storage/hanging slot are just a few of the pan's features.
Shipping
This coupon code also includes free shipping!
Be sure to check out the Bargainmoose forum for more coupons from Consiglio's Kitchenware.
(Photo credit: through a pin-hole)