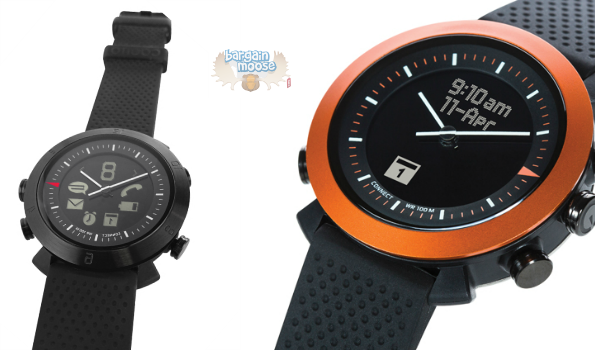 Here is an elegant smartwatch that can keep you connected with simplicity. The Cogito Classic Smartwatch is on sale for today only. Originally $150, you can grab it now for only $49.99. This item also qualifies for completely free shipping.
Do you remember watching shows like the Jetsons and Star Trek? I remember thinking, "Wow! The future will be awesome." Every day we get one-step closer to that flying car, I hope. While I wait for my spaceship and flying car, I can pass the time playing secret agent with this nifty smartwatch.
The Cognito watch is available in both black and orange. Using Bluetooth, you connect it to either your phone or tablet and then important alerts are pushed to your watch. You can choose what types of messages alert you including text messages, phone calls and other apps. This watch has a classic look, but with the alert system includes a modern edge. Tap the screen to clear alerts. This is perfect for anyone who feels that they spend too much time on their device, but still needs to be connected. Sometimes it can be tough to unplug from our devices completely. A smart watch like this lets us stay connected without being distracted by 55 Facebook game invites.
This watch seems to be available almost everywhere at a much higher price. Costco Canadasells these smart watches for $174.99 each.Walmart.cahas these smart watches for $199.97.Staples Canada is selling this same watch for $199.98. Amazon.ca is selling these watches through a secondary seller for $199.  Chapters Indigohas this watch for $199. The Source also has this watch for $199.99. This price at Best Buy Canada is awesome in comparison.
I had trouble finding reviews anywhere on these watches. Of all the retailers that carry this watch, only Costco had a single consumer review, and that user was unfortunately disappointed with the visibility of the indicators. Here is a nice review over at PC Magazine that will give you the full lowdown on this watch.
This deal is only good for today. If you have been thinking about trying out a smart watch, now is a great time to give it a go at this amazing price. I think this is a great beginner smart watch. Watches also make nice Father's Day presents!
(Expiry: 27th May 2015)