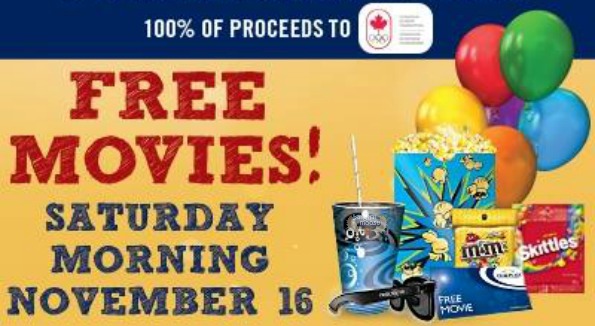 Tomorrow morning, treat yourself to a free movie and $2 snacks at the concession stands with Cineplex.
It is Community Day at Cineplex, and they are offering free movies at what looks like all of their locations, all morning. Doors will open at 8:30am and the movies start at 9am. It doesn't say which movies will be playing, or if they are for adults or kids or what, but I found this info on their Facebook page:
MEN IN BLACK 3 
THE PIRATES! BAND OF MISFITS 
THE SMURFS 
THE AMAZING SPIDER-MAN 
HOTEL TRANSYLVANIA
I assume this will be very popular and the theatres will be packed, but most theatres have a number of movies playing at once, and considering it is so early, you might get lucky and get a movie you like, cheap popcorn, candy and drinks. For only $2 each you'll get a regular popcorn, regular fountain drink and select candy! It might be worth it just to get the snacks.
I think I'm going to brave this with my kids in the morning if we are all up on time! All proceeds will go to the Canadian Olympic Foundation.
(Expiry: 16th November 2013)