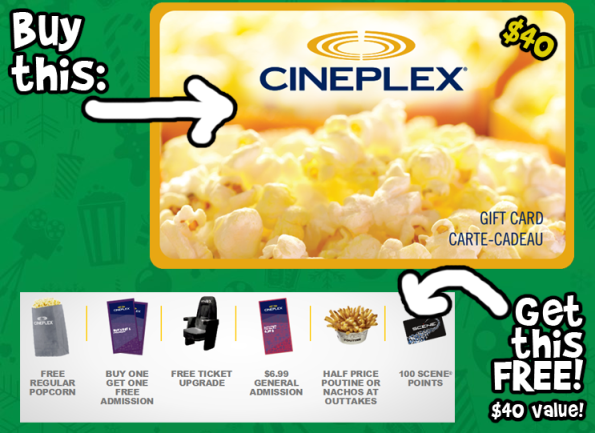 Cineplex's glorious holiday deal is back on this year. Purchase a $40 Cineplex GiftCard and receive a Free Movie Gift Bundle worth $40.
This is a great deal because the bundle value is so high. However, there are specific dates for redemption so make sure to read all the details below so you make the most of your awesome freebies from Cineplex. All vouchers are valid from January 4th through March 31, 2016. Inside your bundle, you will receive:
One BOGO Free Admission (Redeem online or in theatre)
This free admission is valid only for general admission OR you can use it for 3D, UltraAVX, IMAX, and VIP with applicable surcharge. it is only valid Thursdays through Sundays.
One Free Ticket Upgrade (Redeem online or in theatre)
Again, this is valid Sunday through Thursday only. You can redeem online or in the theatre on all 3D, UltraAVX, IMAX, or VIP movies.
One free regular popcorn (Redeem in theatre)
One general admission ticket for $6.99 (Redeem online)
One half price poutine or nachos (Redeem in theatre)
PIN Code for 100 SCENE points (Redeem online)
While Scene points are no longer as valuable as they once were since they changed the program, this is still a nice bundle of vouchers to go with your $40 Cineplex Gift Card. There is no limit to the number of Free Movie Gift Bundles you can buy - you will receive a free one with each order of gift cards worth $40. You can order multiple times if you wish. For all other fine print, please visit the website.
Do note that this free movie bundle is ONLY valid with the purchase if a physical Gift Card. It is NOT valid for purchases of e-Gift Cards.
I do not go to the movies very often. In fact, the last movie I saw was the third Hobbit movie... so you can see just how often I go. However, I have some friends who enjoy going to the movie theatre so this would make a great gift for them. You could always gift the $40 Gift Card and keep the bundle for yourself if you are shipping for Christmas gifts.
(Expiry: 3rd January 2016 - or while supplies last)