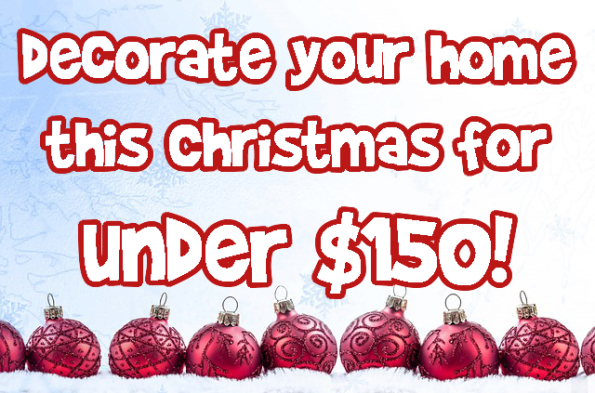 Deck the halls with boughs of holly, fa-la-lala-la.... wait? Do you have everything you need to decorate for Christmas this year? Well I might have the perfect solution for you. Right now Home Depot Canada is offering free shipping on select Christmas products to help you save on quality decor and more. So I am here to help you decorate your home this Christmas for under $150 in total! Today I am just going to focus on interior decor. We will save exterior decor for another post. Realistically, some of us probably live in condos or apartments and won't be decorating outside much, but everyone decorates inside their home for the Holidays.
So if you are starting completely fresh this year, here's the items you will need to make your home feel festive:
Christmas tree
lights
ornaments
Christmas tree topper
and more
Sure Walmart.ca might have small trees for great prices. I mean, I got my 5 foot tall Christmas tree from Target when they had their Christmas Clearance and I think I ended up paying $35 for it. But Home Depot definitely has a better bang for your buck. If you are looking for Christmas decor that will last you years, then I suggest a higher quality shop as such.
HomeDepot.ca has the Home Accents Holiday 5 feet Fraiser Pine Full Tree for just $69. This is a great size tree, but they do have other sizes available as well. This item is sold online and in stores, and it does come with the free shipping. If you prefer the pre-lit tree or a tree that is a touch larger, then you might prefer the Home Accents Holiday 6.5 Feet Franklin Fir Artificial Pre-lit Tree for just $69. There is no price difference, but they are both great options. So there's the most expensive portion of your Christmas decorating this year. If you go with the second tree, you also don't have to buy lights for the tree.
Speaking of lights, that might be something on your decor list for the festivities. There are many different lighting options to choose from at Home Depot Canada, but not many of them are available online. I wonder if that is so that they don't break while being shipped to you? To get the best bang for your buck, this is an item that I definitely suggest you pick up in a store nearby. You get usually get a 50 strand of lights for under $10, and I only use two strands. So let's say $20 on lights for the tree. If you want fairy lights or to light up your fireplace mantel, then that is a different story.
To top it all of, throw an adorable wreath on your front door to welcome all of your Holiday guests. You can get wreaths for as low as $12.98 at Home Depot, but again not all of them are available online. The Pine Tree Farms Holiday Birdie Wreath is both affordable and available online. It is just $24.99 and has shipping included.
Now on to decorating your Christmas tree! If you don't have it full of handmade decorations (thanks to the kids), then you may want to snag some baubles while you're at it. I am going to take you away from Home Depot for the tree embellishments. They have basically zero selection, and what they do have available is only available in stores. So let's head on over to Walmart.ca! Let's keep in mind that you must spend $50 or more at Walmart.ca to get free shipping. Otherwise you can have your purchase shipped to your local Canada Post Office for free, which isn't much of a hassle at all.
There is quite a variety of ornaments available for your Christmas tree at Walmart.ca. For example, I adore this Holiday Time 41 Count Shatterproof Ornament Set for just $7. The colours are neutral and can be used year after year. There are also other sets of 50 available for $9 in different colours. Those prices are fabulous aren't they!? I am not sure how much you would be willing to spend on a tree topper, but Walmart.ca seems to have this as their lowest priced topper. The rest in stock will cost you more than this star. My Elf on the Shelf is usually my tree topper, but since my kiddo is older and can understand the whole tradition behind Elf on the Shelf I might want a different topper this year. The Gold Star Tree Topper from Walmart.ca is $21, but it looks to be a great size and keep in mind it should last you years.
So without stockings or over-the-top Christmas decorations, this puts your total at $130. Keep your eyes peeled for nifty little Christmas crafts on the blog that will help keep this cost down! Happy Christmas hunting Moosers.
Moosers, what Christmas decor do you need to purchase this year?