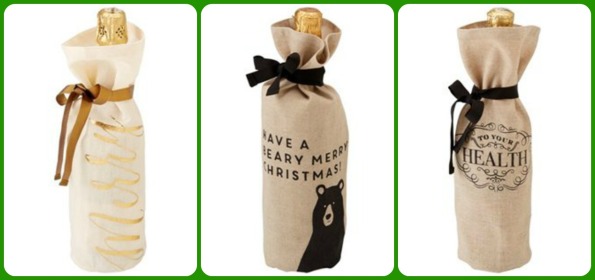 Give the best gift around to your friends and family this year - wine! Chapters.Indigo.ca even has adorable Wine Bags on sale from $12 down to $9 to make your little alcoholic gift a little more festive. There are three bags to choose from, and Chapters Canada even has free shipping with no minimum spend right now which is what makes the deal really sweet.
There are three different wine bags to choose from at this price, and each of them are reusable and adorable. I bought one to hold the wine that I bring to occasions this Holiday season, which means I get to keep it. Is that so evil? I just love wine accessories. These bags are also eco-friendly which is definitely a bonus.
So the wine bag that appeals to me the most is the Merry With Gold Wine Bag. Keep in mind that all three of the available wine bags are just nine bucks. This bag has script that reads "Merry" in a beautiful gold font. The tie is a brown/beige colour. This bag has the most festive flare I would say. These bags are even machine washable with cold water, and you can tumble dry them on low. Each bag holds a 750ml wine bottle.
The Wine Bag - Make A Toast is a stylish way to present any gift bottle of wine. It says "To Your Health" on the bag, which essentially means you are toasting to everyone's health I assume.
The last one is the cutest I would say. The Wine Bag - Beary Merry Christmas has a black bear on the front and reads "Have a Beary Merry Christmas" in a plain black font. This would be bag I would choose to give as a gift with wine to my dad, if he liked wine. I guess you could put other alcohol inside instead, if it fits.
Usually Chapters.Indigo.ca requires you to spend $25 or more to get free shipping, but right now they have a promo for free shipping with no minimum purchase that will run through December 10th 2015. That means it ends tomorrow, so you're going to want to reap the benefits of this offer while you can. It is not often that Chapters Indigo offers totally free shipping with no minimum purchase, and they have quite a few items available that would make fab Christmas gifts.
(Expiry: 10th December 2015)