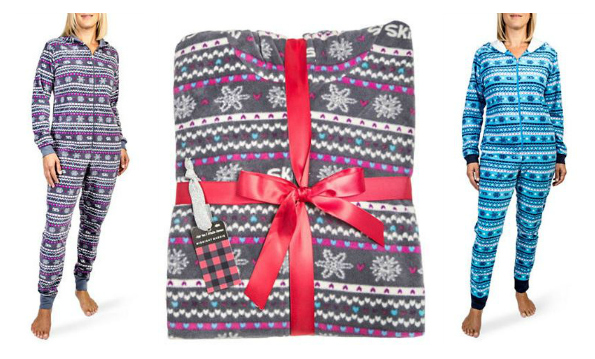 The holidays are coming and I am busy looking for good gift ideas. This Midnight Maddie One-Piece Fleece Pyjama for women is cute, cuddly, and a great holiday find. Originally $59, this hooded onesie for adults is now on sale for $29.99.
This adult fleece onesie comes in an extraordinary range of sizes: from extra-small all the way up to XX-large. All sizes are currently in stock in both colours: blue and grey. The onesies feature snowflakes, hearts, and the word "ski" for a true winter theme. With stretchy cuffs at the ankles and at the wrists, your body heat will stay in the fleece onesie to keep you cosy on cold winter nights.
My favourite feature is the hooded neck because I love to wear hoodies. Your head is one of the places that heat escapes the most, so a hood will keep you warm and look amazing. This is the ultimate warm set of jammies as the long sleeves, long legs, fully torso, and hood cover the vast majority of your body.
Get in the one-piece fleece pyjamas through the zip up front and then hang out in the all evening and all night. For families who have a Christmas Eve pyjama tradition - these would make a great set of pyjamas for her.
Adult onesies have become really popular in the last few years. People know they are a great way to stay warm and they even look pretty good too. Sure, these are not the pyjamas you would run to the store in thinking that people won't notice... but these are an awesome set of fleece sleepwear that is perfect for lounging around the house drinking hot chocolate and eating marshmallows. Throw a fireplace into the mix with snow outside, and you can picture yourself at a ski lodge high in the Rocky Mountains.
Receive free shipping on orders of $49 or more with an HBC Card. Receive free shipping on $99 when you pay with any other method. If buying just these one-piece winter pyjamas, then you will only pay $5.95 for shipping - that is the flat rate for orders under $50.
(Expiry: Unknown)