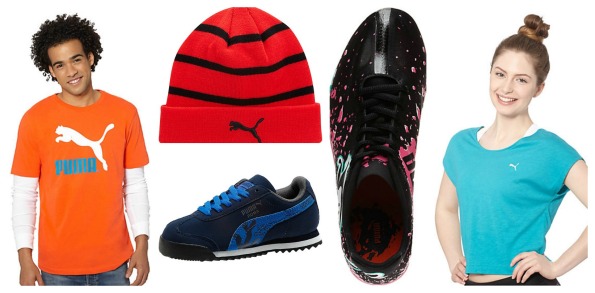 Everyone loves Puma! Whether it be clothing, footwear or accessories - you can bet that someone on  your Christmas list would love to receive an item from Puma this Holiday season. So today Puma.ca is offering totally free shipping with no minimum spend in honour of Remembrance Day. Thanks to that promotion you can snag items on sale for as low as $10 USD  ($13.27 CDN) and not have to worry about any extra costs other than tax.
There are three sections of sale items at Puma Canada Online. So you can shop for men, women or children. The sale prices start as low as $10 which is pretty awesome, and even if you just snag one item you won't incur any extra shipping costs or fees other than tax costs. I love when online retailers have free shipping on all orders, especially when their sale items are fabulous.
So here are some of the sale items you can snag for as low as ten bucks at Puma Canada Online: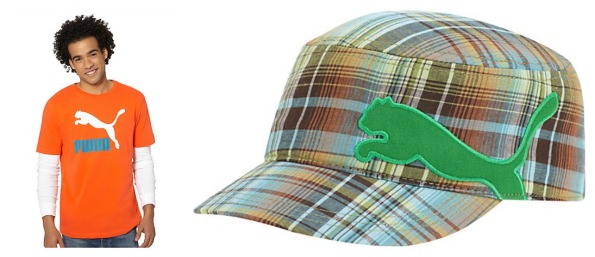 Men
There are quite a few items for men available on sale at Puma.ca right now. There are items like shirts, shoes, hats and more. My brothers all love Puma, so I am definitely finishing up some of my Christmas shopping right now.
The No. 1 Logo T-Shirt is a pretty general item for men. It would have originally cost you $25 USD ($33.19 CDN), but right now it is just $10 USD ($13.27 CDN). It comes in three colours: white, orange and grey. Right now all three colours only have size small and medium available, but most tweens or teenagers would just need a size small.
The Military Adjustable Cap would also make a nifty little gift this Holiday season. It was $22 USD ($29.20 CDN) but is now just $13.20 USD ($17.52 CDN). This cap comes in three colours as well. Brown, grey and a blue/brown plaid pattern. It has the Puma logo of course and is one size fits all.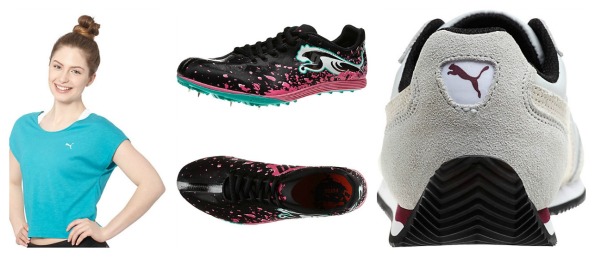 Women
There are actually plenty of trendy looking items for Women at Puma.ca if I do say so myself. I really like Puma's style. For example, check out the ST Watch Me Leave T-Shirt. This shirt was $30 USD ($39.82 CDN) but right now it can be yours from just $12 USD ($15.93 CDN). It comes in black, white, pink and blue but the pricing varies depending on the colour. Most sizes are still available right now.
If you are looking for women's shoes you will find yourself pleased with the discounts that Puma Canada has in store for your. The Crossfox XCS Women's Cross Country Spikes are both practically priced and stylish. They were originally $80 USD ($106.20 CDN) but right now they are just $20 USD ($26.55 CDN). All sizes from 6 through 9 are still available, which means most of you should be covered. If you prefer a more regular style shoe, then you might rather purchase the Rio Speed Women's Sneakers. They are available in blue or white and were originally $60 USD ($79.65 CDN). Now they are just $30 USD ($39.82 CDN).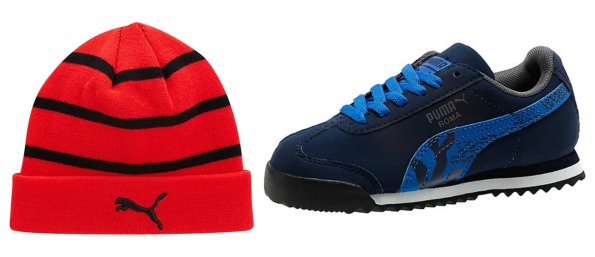 Kids
Kids items are plenty on Puma.ca, especially in the sale section. I immediately fell in love with the Kids Beanies available from $12.60 USD ($16.73 CDN). These hats were originally $18 USD ($23.89 CDN) and are bound to keep your kiddo's head warm this winter. They are available in black, red and blue. They are one size fits all.
Looking for kids shoes instead? Don't miss out on the Roma Camo Kids sneakers for kids. They were originally $38 USD ($50.44 CDN) but now they are just $26.60 USD ($35.31 CDN). My son had a pair of Puma shoes and they lasted so long. I am incredibly sad that he grew out of them, so I am taking this opportunity to snag another pair (especially considering I paid around $60 for a pair like this).
Don't forget to check out the other Christmas gift ideas we have wrote about recently! They sure are accumulating quickly.
(Expiry: unknown)