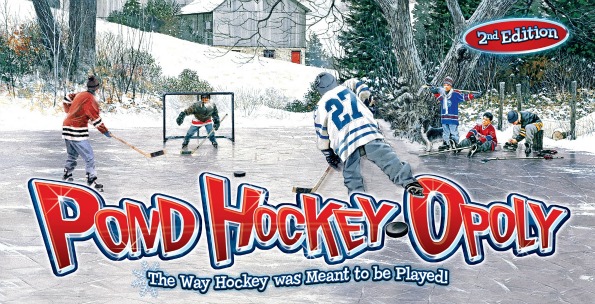 Are you looking for a wickedly fun take on the classic Monopoly game that you can play with kids? Try this Pond Hockey-Opoly by Late for the Sky. originally $29.99, this game is now on sale for $14.99 at Sears Canada. Receive free shipping to one of over 1300 Sears Outlet and Sears Store locations across Canada.
This has all the classic feel of the classic real-estate game - but more Canadian. Buy up ponds and lakes, find out cool trivial about hockey, and try to avoid the penalty box! There are so many cool features to this game including random cards like the dog running off with the puck, being a puck hog, and becoming a first draft pick.
This game plays like Monopoly but with a pond hockey theme. There is also built in trivia so you learn as you play - something that Monopoly doesn't really have built into the game. Also, what Canadian can resist a game based on hockey? It is our national winter sport and probably the sport we are most known for playing.
The game can be played with two or more players. Children ages eight and over will have a lot of fun playing this game with other kids or with adults as well. Add this to your family games night.
This would also make an amazing Christmas gift. There are all those 'secret Santa' gift exchanges you are going to run into this year. I know that my old work place used to have a blind gift exchange with a limit of $20. You could buy this game - under $20 even with tax - and use it. I bet the recipient will be ecstatic.
This is the second edition of the game, which currently costs $25.31 at Amazon Canada. Calendar Club Canada sells the game for $34.99 and BoardGames.ca sells the game for $29.95. sears Canada currently has the best price on this game by over $10 so I recommend buying it sooner rather than waiting and risking the game selling out or going up to full price.

(Expiry: Unknown)