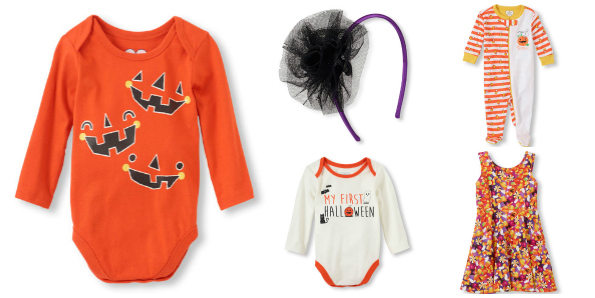 The Children's Place Canada has a trifecta of awesome deals just waiting for you to shop with them. First, they are offering free shipping on all orders with no minimum required. Next, they have a 30% off everything coupon code that can be combined with the clearance section. Thirdly, items in the clearance section start at $1.19, so they come down to just 83¢ after coupon!
Click here to shop @ The Children's Place Canada now
Coupon Code: BLUEBAG30
Discount: 30% off
Expiry: 19th October 2015
The free shipping offer expires on the 16th so you will want to shop this sale before it ends. I figured that I would make this the 'Halloween' edition except for a few honourable mentions. I rather like Halloween accessories that can be worn all year around. Both the Spooky Glitter Hair Clip 4-Pack and the Spooky Flower Headbandwere $5.95 and are now $2.99. After coupon code, pay $2.09 for each of these accessories.
Accessories are fine, but everyone wants clothing. We mentioned the adorableLong Sleeve 'I've Got Daddy Under My Spell' Witch Graphic Tee and Long Sleeve Photo-real Dog 'Trick Or Treat' Graphic Tee before as they were on sale for $12.95 and are now $6.59. Save an extra 30% and get each of these shirts for $4.61.
I am a big fan of bodysuits for me and for little kids. There is nothing cuter than a kid in a onesie. Both the My First Halloween Little Talker Bodysuitand the Jack-o-lantern Little Talker Bodysuitare on sale from $12.95 down to $7.77. Pay just $5.44 after coupon code and get free shipping. I also adore this Mommy And Daddy's Lil' Pumpkin' Halloween Stretchie that was $19.95 and is now $11.97. After coupon code, pick it up for $8.38.
For the older girls, this Sleeveless Candy Corn Photo-Real Scuba Dress should be a big hit. Originally $34.95 and now $17.99, you will pay just $12.59. All sizes are in stock so pick your girl up something pretty and covered in candy.
I just HAD to mention some cool sunglasses as well. Sunglasses are not just for summer: they should be worn during the winter too as the sun's rays bouncing off the snow can be quite bright! Now is the time to load up on children's sunglasses as there is a load of kids' sunglasses in the sale at The Children's Place. Originally $6.50 each, they are on sale for $1.90. After coupon code, these sunglasses come down to just 83¢ each. Check out the bling sunglasses, gem color-pop sunglasses, and the checkered sunglasses to start. These would make great stocking stuffers!