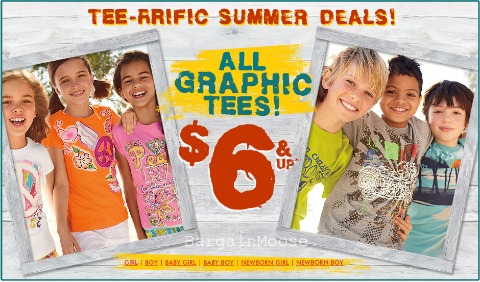 It's a Buy More, Save More event at The Children's Place Canada! This sale is both online and in stores. Use the coupon codes below and get 25% off when you spend $50 or more, 20% off when you spend $40, and 15% off all purchases!
Discount: 25% off $50 or more
Coupon Code: 2D9D2011
Discount: 20% off $40 or more
Coupon Code: 2E9D2011
Discount: 15% off
Coupon Code: 2F9D2011
The Children's Place is featuring all graphic tees starting at $6 for baby boys and girls and $8 for girls and boys. Lots of sizes and styles available. I like this skull graphic teefor my pirate obsessed boy for $6 (reg. $10.50) and the blinged out jewel butterfly graphic teefor $8 (reg. $12.50) for my fancy girl.
With the great prices from The Children's Place, I know I won't have a hard time spending over $50!