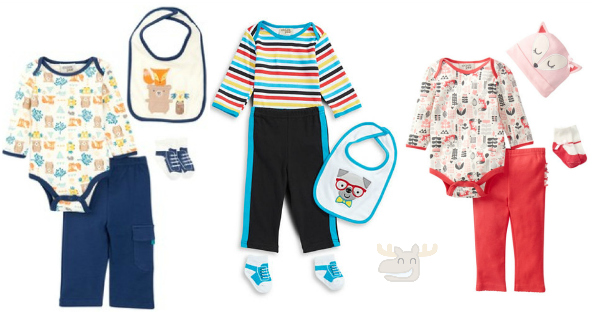 As Eva mentioned earlier, Hudson's Bay Canada is offering free shipping on all orders with no minimum. This is a great time to stock up on baby clothing and more. I cannot think of much better than these four-piece infant sets on sale from $20 down to $8 each. You get great value for your money.
This CHICK PEA Four-Piece Striped Dog Bodysuit Set is one of your better choices as all four sizes are still in stock. Sizes 0 up through 12 months are currently available. The set comes with a bodysuit, bib, pants, and socks.
Next, the CHICK PEA Four-Piece Fox Bodysuit Set is also in stock in all four sizes. This four-piece set comes with a hat that looks like a fox with closed eyes, pants, fox-printed bodysuit, and a pair of socks that look like little shoes. This set is seriously adorable and would make a great outfit for your young one or as a gift for someone expecting.
The CHICK PEA Four-Piece Cotton Woodland Bodysuit Set is also currently at full stock. I adore the little woodland creatures on this set that comes with pants, bodysuit, socks, and a bib. The bib is my favourite piece of this outfit.
I think this CHICK PEA Four-Piece Baby Monkey Set would work really well as a costume piece for your little guy. The cute monkey hat is just adorable and great for a mischievous little one. While I like the sets with bibs, I think that I prefer the sets with hats instead. The hats look like animals and I adore that. Maybe buy one set of each so you can get a bib and a hat.
The CHICK PEA Four-Piece Giraffe Crown Bodysuit Set is another set with full size range still available. Get the bib, pants, bodysuit, and socks set for just $8 like the rest.
I wanted to mention a couple other sets with fewer sizes available. The CHICK PEA Four-Piece Sweet Pea Play Set and the CHICK PEA Infant Boys Four-Piece Mommys Little Man Set are only available in select sizes. Also, if your child is 6-9 months old, then pick up the CHICK PEA Four Piece Safari Set on sale from $20 down to $6. This is a little cheaper than the other suits but there is only one size still available.
Save an extra 15% when you use your Hudson's Bay Card.
(Expiry: Unknown)