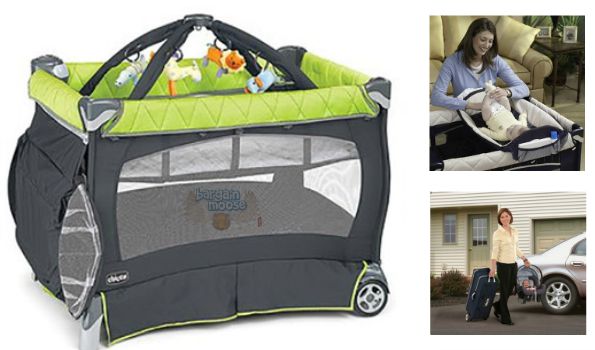 Check out this amazing price on the Chicco Lullaby Playard over at Shop.ca today. This playard was $280 and is on sale for $159.99. Use our coupon code MOOSE50OFF125JULY to take $50 off your purchase, making your total only $109.99. Shop.ca also has completely free shipping every day.
Playards are a safe alternative sleep spot for naps or nighttime and are quite handy. Included is a sound and vibration feature that can help you calm that fussy baby, and also a nightlight. There is an elevated changing table included for diapers, which can be handy if you have more than one level to your home. There are also a few toys included for while you change diapers, or just for playtime. Stow this playard in the travel case to head off on vacation or to Grandma's house and have a safe place for your baby to sleep.
Price Comparison
Snugglebugz.ca has this exact playard on sale for $159.99. I also found this in the green colour at Beaubebe Canada for $298. Over atToys R Us Canada, they have this exact same playard in an all grey colour scheme for $269.99. Amazon.ca also sells the all-grey version only for $269.99. Looking at the price comparisons, this Shop.ca deal is awesome.
Review
The reviews are looking excellent. Here is one reviewer at Shop.ca who thinks you should buy this playard for your kid.
This is the second Chicco Playard I've bought. I love that the mattress is washable. I had an issue with my previous Playard, the wooden pieces getting stuck to the material after washing but have not had that issue with this one. Great product!

Alternative Deal with Filler Item
There is a secondary deal that you can score if you add a filler item to your cart. Over in the bargainmoose coupon forums we also have the coupon code MOOSE60OFF175JULY that will take $60 off your order if you spend $175. Since the playard is on sale for $159.99, if you add an item that is at least $15.01 you can use this alternative coupon code and save an additional $10 making your filler item very inexpensive. I would consider picking up one of these Modern Storage Bins that are listed as $17.99. These square bins are available in many options including solid colours and also with a few fun animal designs. I always seem to be able to find a use for an extra storage bin. If you were to add the storage bin to your cart with the playard and the coupon code your total will be $117.98.
Whether you are a new or experienced parent, at some point you need to set the baby down someplace safely. This will work perfect when your kid is a newborn and refuse to be away from you. I set my playard up in my bedroom for several months when my daughter was first born. She slept in the bassinet sling, and later further down in the playard itself until she was sleeping for longer stretches. I found I used mine as a travel bed for the first year and a half of my kid's life.
(Expiry: Unknown)